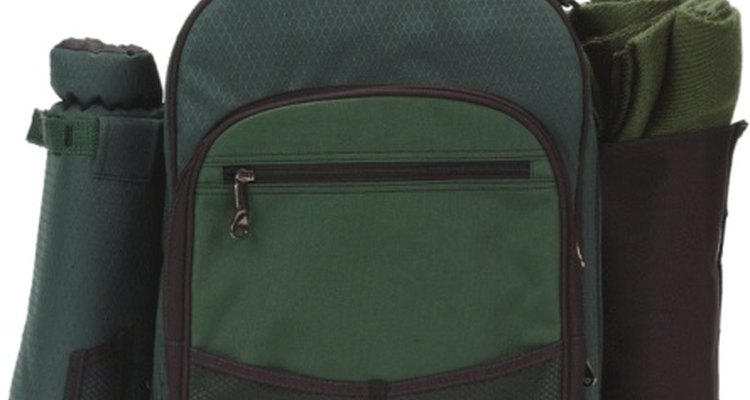 Zedcor Wholly Owned/PhotoObjects.net/Getty Images
The denier is a unit of measure of the tightness or density of the fabric's weave. 1000 Denier Cordura is a durable synthetic fabric that is available in coated and uncoated varieties. It's made of 100% nylon and used in the manufacture of many products from luggage and backpacks to golf bags and chaps. 1000 Denier Cordura has widespread application and comes in lots of colors and even some prints.
Fabrication
1000 denier Cordura is fabricated from dyed DuPont nylon yarns. Straight yarn filaments are woven together into a looped entanglement to create a strong fabric. One side is then coated with Enduracote, a urethane sealer that gives the fabric its water repellent character. Fabrics are then textured via an air jet process that yields a product that is highly resistant to abrasion. Coated fabrics come in 60 inch widths in a variety of solid colors ranging from black, burgundy or charcoal to gold, purple or neon orange and neutral prints like desert camouflage. One square yard of uncoated Cordura weighs just 9.8 oz. while a square yard of coated fabric weighs 11 oz.
Applications & Uses
The overwhelming durability of 1000 denier Cordura qualifies this fabric for heavy duty use. Characteristic features of this nylon fabric such as resistance to tears and scuffs indicate it performs well outdoors. It's also tough on dirt and resists chemical and perspiration stains, making it appealing for sports clothing. Other suitable and common uses of 1000 denier Cordura fabric is for outdoor products like golf bags and backpacks, suitcases, attaches.
Care
1000 Denier Cordura is made with yarns that resist staining. Products like packs and bags made with this fabric can be generally be wiped clean with a damp cloth. Clothing items may be hand washed or washed in the machine using luke warm water and then tumble dried on a low heat setting. Care should be taken not to use extreme heat as this may deteriorate or even melt the fabric. Should clothing require ironing, use a warm iron and only press the uncoated side. Bleach and fabric softeners are not recommended. Products can be dry cleaned without reservation. Finally, continuous sun exposure will damage the fabric, so it's advisable to keep your bags in the shade or stored when not in use.
References
Writer Bio
Erin Moseley is an advocate for science education. Since 1985, she has written numerous technical, user and training manuals for major corporations, public agencies and universities. She holds a Bachelor of Science in geology.
Photo Credits
Zedcor Wholly Owned/PhotoObjects.net/Getty Images