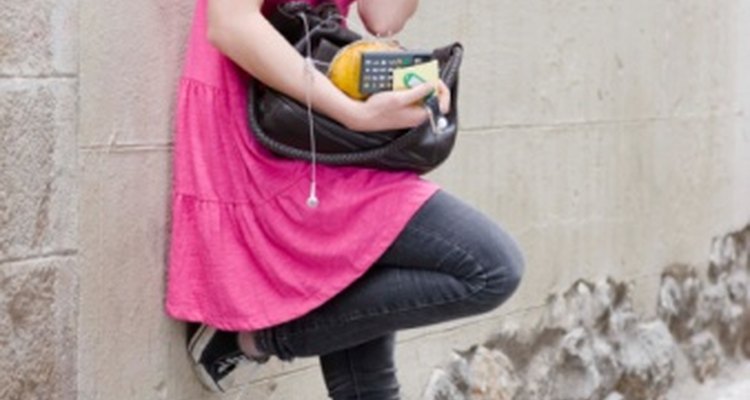 Jupiterimages/Polka Dot/Getty Images
Since the early 1900s, Converse has been producing rubber-soled shoes, which have been worn by basketball celebrities to British punk rockers to schoolgirls attending class. The shoes are still a popular choice today and are sold at many retailers around the world. However, if you find a good price on a pair of "Chucks" that seems too good to be true, use a keen eye to check various aspects of the shoe. By following a few steps, you should be able to see if the Converse All-Stars are authentic or fake.
Examine the shoe's tags. Start with the "All-Star" tag, which should be found across the heal and/or tongue of the shoe. Also, inspect the circular Converse logo found on the All-Star high-tops, as well as the "Converse" letters printed on the inside of the shoe. On all labels, ensure the stitching or ink is clear, crisp and clean, rather than dull, faded or smudged. Also, while it may seem obvious, ensure the words are spelled correctly and that tags have the appropriate designs. For example, the high-top classic Converse will come with a circular screen print logo that includes the words "Converse All Star," a solid star and Chuck Taylor's signature. If any of these are missing from the image, the shoes are fake.
Make sure the Converse All-Stars come with all the appropriate packaging. This should include an official Converse shoe box, with the pair wrapped in tissue paper the company logo and stars on it. Find the official removable Converse tag, too, which will typically display the Converse logo with a history and description of the company. If the shoes don't come with this tag or packaging, they might be fake.
Check the shoe's stitching and paint, including both the paint on the rubber and fabric. Authentic converse will have neat and secured stitches where needed, as well as straight, solid lines of paint on rubber. Fake shoes might be glued together or have uneven lines of stitching. Fake Converse might also have unclear and uneven lines painted around the shoes.
Check the price of the Converse. In 2011, the Chuck Taylor All-Star shoes were sold starting at $45 on the company's website. If your shoes are being sold for much less, it should raise some red flags about their authenticity.
Photo Credits
Jupiterimages/Polka Dot/Getty Images