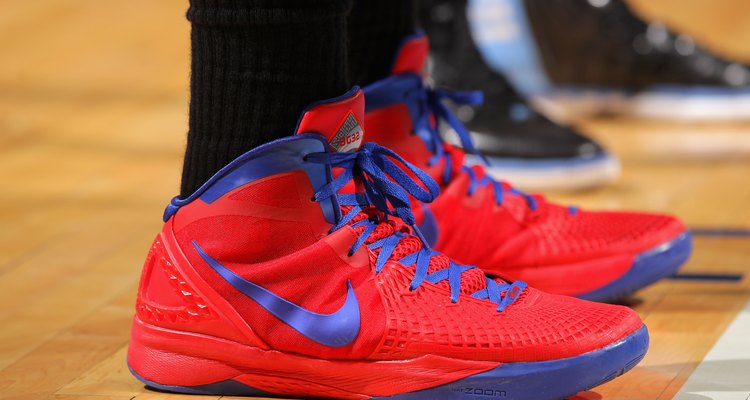 Doug Pensinger/Getty Images Sport/Getty Images
Nike, Inc. is one of the most popular sport shoe and apparel companies in the United States and the world. This success has attracted a host of imitators looking to get a piece of the pie. Nike, like many other popular apparel companies, has struggled to control manufacturers shipping and selling fake versions of their shoes and apparel.
Bend the soles. Authentic Nike shoe soles are made of BRS 1000 rubber; it looks, feels and smells like rubber. It should not feel like hard plastic.
Insist on seeing the shoe box. Many fake Nike shoes will not come with the original shoe box. Some fakes do come with a shoe box, but it is often fairly flimsy. Authentic Nike shoe boxes are made of a heavy and sturdy cardboard.
Look for the SKU number. Every authentic pair of Nikes comes with a SKU number on the box, as well as inside the shoe on the tongue label. Those SKU numbers always match.
Compare color configurations, also called colorways. Websites such as Air-jordan.com offer a thorough listing of every Air Jordan ever released. You can look up styles, color combinations and other minute details of authentic Nike shoes and compare it to one you are looking to purchase.
Look at the stitching. Fake Nikes can have sloppy stitching, and stitching that is uneven or is not straight. Genuine Nikes have near perfect, if not perfect, stitching.
Look for bleeding or faded colors. Sometimes fake Jordans will have bleeding coming from the red Jordan symbol on the tongue's tab into the fabric surrounding it. Fabric colors on the shoe may also look faded on fakes. An authentic Nike shoe will not have faded or bleeding colors.
References
Writer Bio
Si Kingston has been an online content contributor since 2004, with work appearing on websites such as MadeMan. She is a professional screenwriter and young-adult novelist and was awarded the Marion-Hood Boesworth Award for Young Fiction in 2008. Kingston holds a Bachelor of Arts in English from Mills College.
Photo Credits
Doug Pensinger/Getty Images Sport/Getty Images