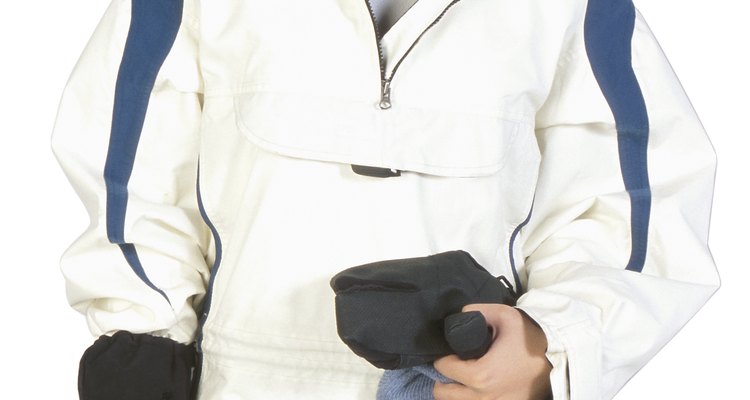 Hemera Technologies/PhotoObjects.net/Getty Images
When temperatures drop and you have to grab the right jacket and go, reach for something that fits the occasion and your sense of style. Consider the image you want, the style of your clothes, the details and the fit -- then it won't be that hard to find the perfect hood.
Rain
Nylon canvas with a built-in or zip-off hood: The details and quality determine the look of this lightweight rain shield. It is usually zippered, and higher-quality models also have a snap closure. It may be plain, lightly-lined or padded and quilted for a more structured look.
Twill high collar: A long jacket that is insulated for warmth, has a high neckline and a laminated weather guard hood brim. It has multiple pockets and a sleek menswear design. Best for casual wear. It comes in black, charcoal, tan.
Hooded parka: A winter favorite for skiing and outdoor weather. Can be worn casually in colors or dressed up in ivory, white or black. It may be plain or have a fur trim.
Cold
Wool jacket with hood: A warm jacket for men or women, the hood is attached or unbuttons. It comes in deep colors like navy, black, red, brown and green plus cream and tan. It comes in classic, straight designs or as a structured pea coat with detailing and large buttons. It is easy to wear over all clothes and for most occasions.
Puffy parka: A very warm jacket for men and women, usually necessary in the snow or very low temperatures. A parka often has a fur-trimmed hood and warm fleece or down lining. It comes in a wide variety of bright colors that can be useful for safety reasons (like when skiing, for example), in addition to white and black.
Stylish choices
A light, hip-length cape: Designed in sheer fabric with a built-in hood, this is a good choice for ladies. Wear it in the evening over a lightweight dress or wear it to dress up jeans and boots.
A light parka: For ladies, this parka is made of silk and chiffon, with multiple pockets, a snap- or zip-front and drawstring waist. It is a day-to-evening jacket, made of light-weight fabric with an attached hood.
A short wrap: This ideal ladies jacket for every outfit sometimes has fur cuffs or collar and hood. Made of lightweight wool or cashmere, it's warm enough for cold days or nights. Wear it over a suit or with dresses or jeans.
A menswear wool jacket: With a structured longer cut, it is a stylish overcoat with a suit or jeans. It comes in tweeds and wool blends. It has pockets and usually a built-in or detachable hood.
Casual
Hoodie: A roomy, comfortable shape is the priority feature of this teen favorite and weekend staple. It has a loose, attached hood with a string for tightening it. It has two side pockets and a zip-up front closure. It comes in a variety of colors, sometimes with logos or designs, sometimes with a lining or padding.
Tapered hoodie: A men's snap front and tapered fit with cuff and collar detailing. It has an attached hood and two side pockets. It can be a slim fit with tapered ribbed bottom edge or a looser cut with padded quilted lining and a hood. It comes in checkers, tweeds, plaids and designs, as well as two-tone styling similar to a baseball jacket.
A flannel shirt hoodie: A looser-cut men's flannel or corduroy shirt style with a padded quilted lining and a hood. It comes in checkers, tweeds, plaids, designs and the baseball-style two-tone colors.
Fleece hooded jacket: This men's jacket with a fixed hood is good for mild days. It cuts down the wind with 200 weight fleece. It has a zip-front and two to four pockets, often zippered. It's lightweight and comfortable for layering under a heavy winter jacket.
References
Writer Bio
Paule McKenna is a celebrity makeup artist for print TV and film who began her career as owner of Los Angeles' first makeup studio. She has a makeup line and enjoys writing, marketing and real estate at the beach.
Photo Credits
Hemera Technologies/PhotoObjects.net/Getty Images