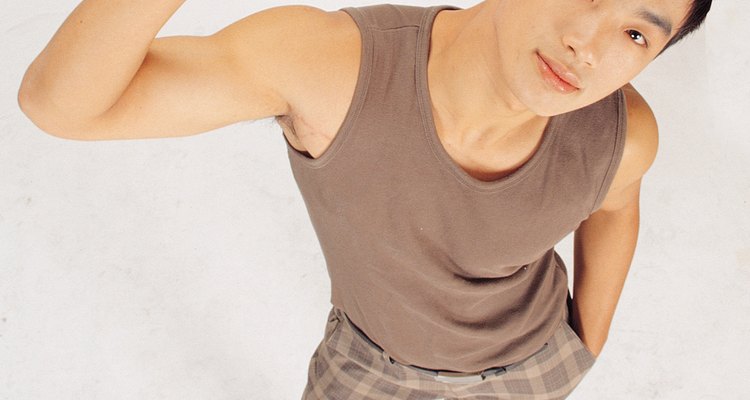 Photos.com/Photos.com/Getty Images
Tank tops are an absolutely acceptable look for men. Make sure it is a fashionable one. Wear a tank at the appropriate times and only during warm-weather months, if wearing one outdoors. If you choose to wear a tank top, wear one that fits and flatters your physique. Pair your tank top with the right types of pants, shorts and accessories to pull one off in style.
When and Where to Wear
Tank tops are casual, and it is acceptable to wear one while exercising or outdoors during warm-weather months. A fitted tank top worn working out or playing sports is fine, otherwise, choose a tank top that is slightly loose, has wide straps and that is cut higher under the arms. Wearing shirts with sleeves during formal meals is proper etiquette. However, it is suitable to wear a tank with long shorts or pants to bars or casual restaurants during the day.
How To Wear A Tank Top
With a little confidence and tasteful choices, carrying off a tank top should be no problem. Do wear tanks if you are in great shape. Wear a loose-fitting tank top with a short- or long-sleeve button down shirt over it if you have a little bulge. It is a more flattering than a tank top alone and is also a look that can be worn by any man into the evening. Accessorize with sunglasses, hats and tasteful jewelry.
What To Wear
The most flattering tank tops are the ones that are basically t-shirts with the sleeves cut off (also known as "cut-offs"), and only reveal your arms. Crew-neck or v-neck tanks are good choices. Stick with solid-color tanks and tanks with horizontal stripes. If you prefer not to wear tank tops, don a plain t-shirt instead. Wear a polo shirt in all cotton or silk blends that stops at your hipbone, day or evening, and leave it un-tucked as an alternate option.
What Not to Wear
Avoid tanks in neon colors and ones with phrases or graphics. Steer clear of any tank top that is ribbed, has thin straps or is meant to be worn as an undershirt. Tanks that are too tight are not flattering on any man, no matter what his physique. Plaid, flannel, sleeveless shirts look out of place in warm weather. Wear them, instead, as a layer over a long-sleeve t-shirt or henley shirt during cool weather months.
References
Writer Bio
Kathy Karadza is a professional writer and editor who has worked in fashion and costumes in television, film and on Broadway. She holds a B.A. in drama, an M.A. in theater history and a professional certificate in creative writing from New York University.
Photo Credits
Photos.com/Photos.com/Getty Images