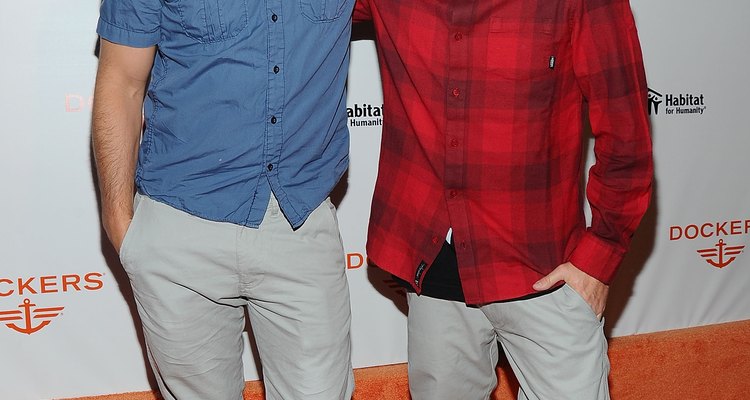 Jamie McCarthy/Getty Images Entertainment/Getty Images
Khakis and chinos, in general, are staples of any man's wardrobe, as are navy blazers and sportcoats. Confusion is often found when it comes to pairing coats from a matched suit with a different set of slacks, such as Dockers. Understanding when and where to match up suit coats with mismatched pants takes experience and an understanding of how casual the environment is.
Double or Single-breasted
Double-breasted suits imply a higher level of formality than single-breasted, a category of suit jacket that includes simple blazers and deconstructed jackets. Khakis are usually worn in less-formal environments, instantly creating a mismatch with a double-breasted suit jacket. Single-breasted sport coats, especially ones featuring less padding, are naturally suited for wear with Dockers and other similar types of slacks. Avoid jackets featuring gold- or silver-toned buttons to further relax the look.
Materials
Suits are often made from finer materials, such as merino wool. When paired with a cotton pair of Dockers, for example, the look is mismatched. If in doubt, examine the materials used in stand-alone blazers, such as camel and tweed. These types of jackets are made for pairing with pants like Dockers, so even if the jacket you're using is pulled from a matched suit, the look is less jarring.
Colors
Very few things look worse than a suit jacket and pants that do not match exactly. If you're attempting to "make" a suit from a jacket and a pair of Dockers, it is unlikely you'll succeed. In addition to fabric mismatches, dye lot variances are virtually guaranteed, as is the rate over time at which those colors will fade or change between the jacket and pants. The best effect is found by choosing an offsetting palette, such as pairing a navy suit jacket with khakis. The look is intentional and, for the most part, timeless.
Style
Although Dockers are found with multiple variations and colors, in general, light-toned, flat-faced iterations work best. Pleats and cuffed hems tend to wax and wane over time, while slim-fitting, flat-front options are never out of style. This is especially useful when you're pulling together a look quickly, since the plainer styles involve fewer considerations to take into account. Similarly, jackets with subtle styling cues, such as notched versus pointed lapels, single versus double vents and very little, if any, shoulder padding maintain that casual look.
References
Writer Bio
David Lipscomb is a professional writer and public relations practitioner. Lipscomb brings more than a decade of experience in the consumer electronics and advertising industries. Lipscomb holds a degree in public relations from Webster University.
Photo Credits
Jamie McCarthy/Getty Images Entertainment/Getty Images