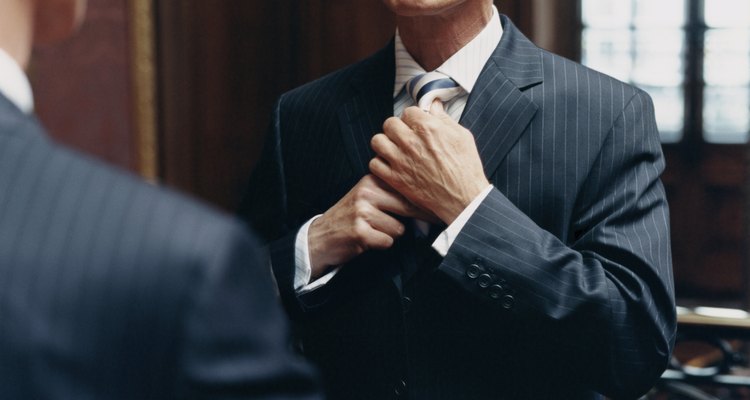 Digital Vision./Digital Vision/Getty Images
In the world of men's wear, the well-dressed man knows how to combine prints and patterns to create a decidedly elegant look. A little knowledge about patterns can help you avoid clothes that clash -- and going from Don Draper chic to "Napoleon Dynamite" tacky. In the world of men's suiting, houndstooth and herringbone are part of a respectable clique of understated and classic woven fabric that say a lot about the gentleman without drawing questionable attention.
The Slanting Columns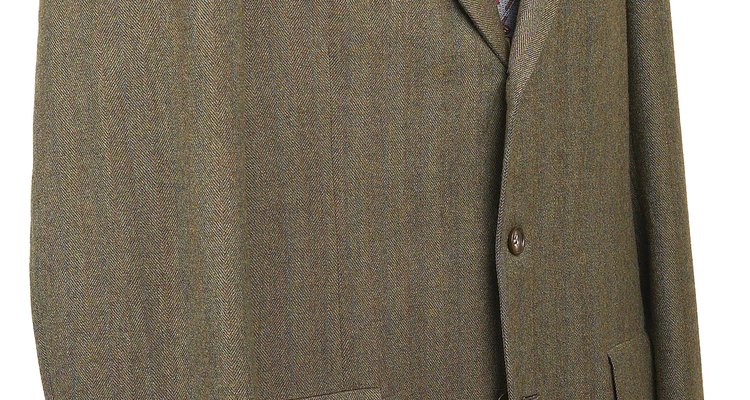 Hemera Technologies/PhotoObjects.net/Getty Images
Herringbone is typically a two-color combination of black and white, gray, brown or blue. The pattern is formed with alternating colors, with each color woven in a slanted line. In one column, the lines slant in one direction; in the adjacent column, they slant in the opposite direction. Herringbone is primarily woven with thicker yarns to create a more pronounced pattern. You'll find herringbone prints on sports coats, blazers, overcoats and hats.
The Checkerboard
The houndstooth pattern -- so named because it's said to resemble the tooth of a dog -- is of Scottish heritage. It's a pronounced print, similar to a checkerboard. as the pattern alternates columns of four dark-colored and four light-colored threads. Rather than the absolute square shapes on a checkerboard, however, the resulting pattern can be a diamond, pinwheel or other abstract design. In menswear, because of the tight weave, the houndstooth is often found on coats and jackets.
How to Wear These Prints
Pair houndstooth or herringbone jackets with solid-colored trousers in black, brown, navy or gray. Choose carefully when matching shirts with houndstooth, which is a pronounced pattern. Wear shirts that are close to the base color of the pattern. The same can be said of herringbone, although you have a bit more flexibility with this somewhat more subtle print. Do stick with a solid-colored shirt, because adding a second pattern to herringbone can look too busy.
Understated Looks
However you choose to wear your herringbone or houndstooth jacket, remember that a little pattern goes a very long way. Wear these prints with shirts and trousers that take a back seat to the bold prints to convey style and substance. Pair a herringbone jacket with a pair of jeans for a well dressed look on a first date. In wintertime, while the rest of the business pack is turning to dark colored trousers and blazers, show up to work with a black and white houndstooth print tie against a dark colored shirt and heavy camel blazer.
References
Writer Bio
Lilian M Raji is a strategic marketing and public relations adviser for luxury lifestyle companies in the areas of fine jewelry and watches, fashion, accessories, beauty, cosmetics, restaurants and hotels. Equally passionate about writing as she is developing and executing business strategy, she has been published on Forbes.com, Luxury Society, "The Village of Merrick Park Magazine" and "Canadian Jeweller Magazine."
Photo Credits
Digital Vision./Digital Vision/Getty Images