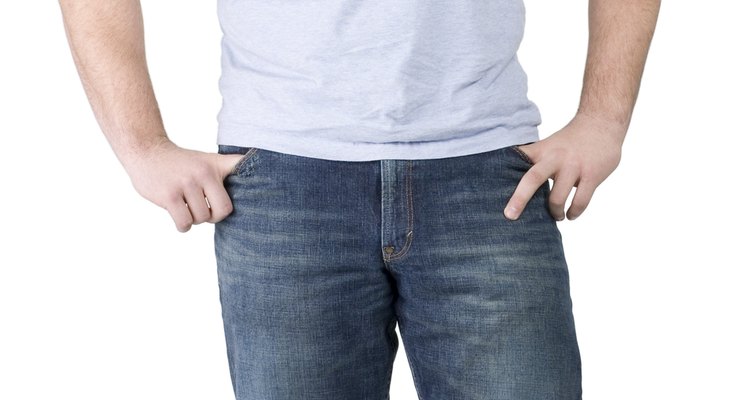 PhotoObjects.net/PhotoObjects.net/Getty Images
Distressed jeans can be found in department stores everywhere. The creased, faded look that sits across the hips is called whiskering. This style of distressing tends to emphasize the width of the hips because of the large horizontal accent marks. Once the fibers of jeans have been worn and faded in the production process, the fibers are never the same, but you can use a dark-wash dye to create a more even tone on your whiskered jeans.
Stir together a package of black or indigo clothing dye with about 4 to 5 gallons of hot water in large bucket. Stir the mixture together with a dowel rod or other stirrer to ensure the dye is evenly distributed.
Place the jeans into the dye, making sure the jeans are suffused with the hot water and dye mixture. Allow the jeans to soak for about 30 to 40 minutes. Move the jeans around in the mixture every five minutes or so.
Remove the jeans from the dye and rinse in warm water in the washing machine with no detergent. Empty the dye bucket and rinse it thoroughly. Refill the bucket with cold water and a bottle of vinegar. Place the jeans in the vinegar mixture and allow them to sit for about 8 to 12 hours to help set the dye.
Remove the jeans from the vinegar mixture. Wash the jeans in the washing machine on the gentle cycle, using a mild detergent. Air dry the jeans.
References
Writer Bio
Sarah Vrba has been a writer and editor since 2006. She has contributed to "Seed," "AND Magazine," Care2 Causes and "202 Magazine," among other outlets, focusing on fashion, pop culture, style and identity. Vrba holds an M.A. in history with an emphasis on gender and fashion in the 19th century.
Photo Credits
PhotoObjects.net/PhotoObjects.net/Getty Images