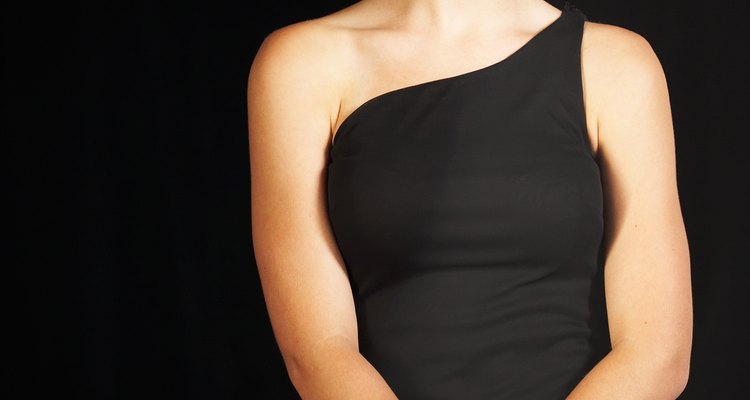 Jupiterimages/Photos.com/Getty Images
From wedding receptions to lavish dinners, black tie attire refers to the formal apparel that men and women are expected to wear to a variety of events. While black tie usually means a tuxedo for men, women have more options for black tie apparel. However, due to the vast range of occasions that require black tie clothing, the proper etiquette regarding what a woman should wear to black tie events changes based on such factors as time, location and the formality of the affair.
Event
The invitation to the event might note whether an event is black tie. If no mention is made of what to wear, you can take cues from the other details. The event location, time of evening and the purpose of the event are factors that can help you determine whether the event will be formal and require black tie clothing. If still in doubt, it is acceptable to ask the host what attire is expected for the event.
Style
Three styles of black tie attire are appropriate for women – long dresses, short dresses and separates. A floor-length or three-quarter length evening dress is better suited for an event that is more formal or will occur later in the evening. However, a knee-length cocktail dress is acceptable for an event that is less formal and will occur early in the evening. While separates, such as a top with a long skirt or palazzo pants, are considered less formal than dresses for black tie attire, they can still be worn to a black tie event if they match and possess the proper level of dressiness.
Details
When choosing the appropriate attire for a black tie event, consider the details of the outfit that you will wear. The color of your dress or separates should complement your skin tone and hair color, but can be any color ranging from a dark, rich shade to a light, pastel hue. When selecting your outfit, you should choose clothing that is made from dressier materials, such as satin, silk or lace. Acceptable black tie attire can have a simple design or an intricate, lavish design that includes such details as beading, sequins, ruffles or ribbons.
Accessories
The accessories that you use to complement your black tie attire should be as formal as the rest of your outfit. You should carry a clutch or small purse that matches the color or material of your clothing. High heels or evening sandals are the appropriate footwear for a black tie event. When choosing jewelry, you should stick to one or two key pieces that are made from quality materials, such as pearls, diamonds, gold or silver. Stockings should be worn, especially with a short dress, and gloves are common accessories at more formal events held during the late evening.
Beauty
The proper make-up and hairstyle will make your black tie ensemble look polished and complete. When putting on make-up, choose one feature to emphasize with a more noticeable make-up application, such as your eyes or lips, and keep the rest of your face toned down in neutral colors. A manicure and pedicure are also recommended for black tie events. It is considered proper to style your hair in an updo, such as a bun or high, sleek ponytail, when wearing black tie attire. However, if you do wear your hair down, it should still look kempt and styled.
References
Writer Bio
Danielle Crandall has been a professional writer and editor for more than five years. Her work has appeared in various online publications and marketing materials for nonprofit organizations, covering topics ranging from beauty and fashion to home decor to education and society. Crandall holds a Bachelor of Arts in English from the University of Arizona.
Photo Credits
Jupiterimages/Photos.com/Getty Images