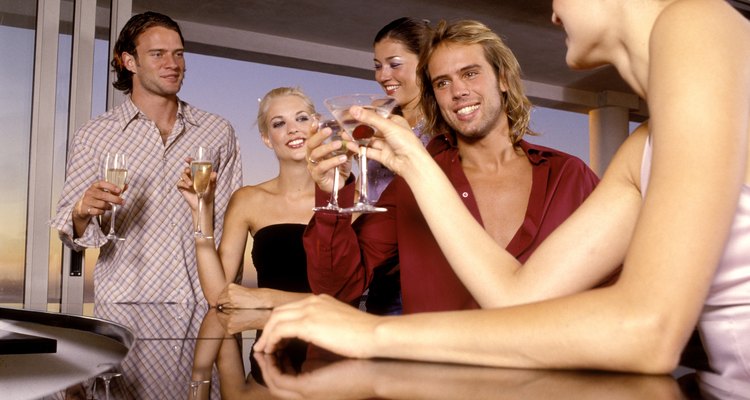 Pixland/Pixland/Getty Images
Evening chic is a nebulous term for a dress code, typically applied to a social or cocktail event. Unlike formal events that require a suit or black tie, evening chic is in many ways equal to business casual, with many of the same rules. Men should look, at once, polished but not too dressed up in order to most accurately fit the evening chic description.
Read the invitation carefully for key words. The range implied with evening chic is fairly wide. For example, anytime the word "formal" appears in any connotation, such as "semi-formal" or "business formal," think jacket and tie. Preferably, wear a suit.
Understand the venue. If it's outdoor cocktails on a rooftop patio in the summer, good options include a crisp white spread-collar shirt with trim khakis. Keep the pleats and cargo pockets at home. Conversely, if the event takes place at an upscale bar during the evening, dark denim and a black button-down works every time.
Wear nice, polished shoes. Most people evaluate a look from the bottom up. Do not wear sneakers, sandals or boat shoes to an event calling for evening chic attire.
Throw a navy blazer on over your business casual work clothes to add requisite polish to the look.
Minimize the accessories. Necklaces, right-hand rings and other ostentation is the opposite of chic. The same goes for hats. Crisp and simple are the orders of the day.
Never wear shorts, regardless of the weather or venue. Seersucker or chambray slacks are appropriate, breathable substitutes.
References
Writer Bio
David Lipscomb is a professional writer and public relations practitioner. Lipscomb brings more than a decade of experience in the consumer electronics and advertising industries. Lipscomb holds a degree in public relations from Webster University.
Photo Credits
Pixland/Pixland/Getty Images