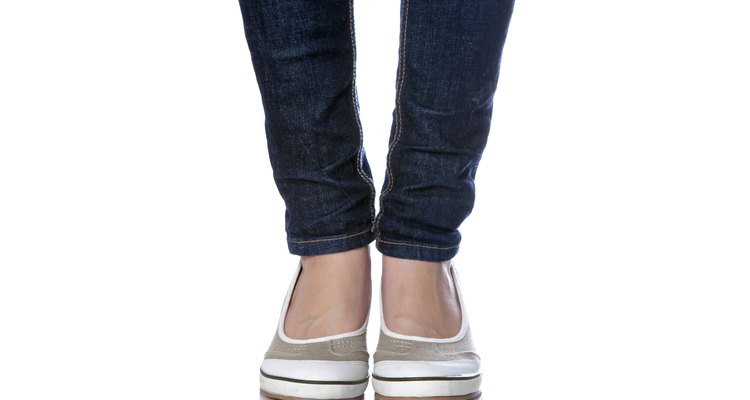 rkankaro/iStock/Getty Images
Most jeans that are tight at the ankles are skinny jeans, so they are fairly tight fitting all over. But "skinny" actually refers to the leg opening, which is quite narrow. If you crave the peg-leg look, several cuts of jeans sport narrow leg openings; most of these fall within the different styles of skinny jeans.
Skinny Jeans
Skinny jeans for both men and women have a very tailored, narrow silhouette, cut slim through the hip and thigh with a skinny leg that ends tightly at the ankle. These jeans can be made of cotton or a cotton-polyester blend, or contain cotton and spandex to help them conform tightly to the body. The jeans come in high-rise, midrise and low-rise to suit a range of figures and tastes. Skinny jeans accentuate the figure and work well for those who carry weight in the middle but have lithe limbs. Skinny jeans can be worn with sneakers, flats, boots or heels.
Super-skinny jeans have even narrower leg openings than regular skinny jeans for an extreme peg-leg look and second-skin fit. These styles are most flattering for women with narrow, boyish figures and for lean men. Avoid super-skinnies if you have fuller hips and thighs.
Skinny Slouchy Jeans
Skinny slouchy jeans offer the relaxed look of a slouchy or boyfriend jean through the hips and thighs, with the cool, modern look of a narrow lower leg below. Many slouchy skinnies have a long rise, which means more room from waist to crotch. These styles have a casual, relaxed feel that's perfect for weekends. Worn with heels, these pants exude urban cool.
Legging Jeans
Legging jeans, as the name suggests, are a hybrid of leggings and jeans. Sometimes called jeggings, legging jeans have a lot stretch and fit like traditional leggings -- very slim through the hip and thigh with a very skinny leg opening. While the stretchy material is comfortable, these jeans have the least forgiving fit and should be worn like leggings with longer tunics and tops unless you're very tall and slim.
Slim Straight Jeans
Jeans with a straight cut but a slightly more tapered leg are sometimes called slim straight. These jeans combine a more classic look and relaxed fit with a slimmer, more modern leg opening. The ankle openings may not be as tight as on skinny jean styles. Slim straight styles, available for both men and women, have a universally flattering fit.
Cigarette Jeans
Cigarette jeans are women's jeans that are similar to skinny jeans but feature a shorter inseam for a cropped, above-the-ankle length. While these styles fit slim through the hip and thigh, they are not as figure-hugging as leggings. These jeans may be suitable for those with petite figures looking for shorter inseams that will fit them like a regular skinny jean.
Boyfriend Jeans
Boyfriend jeans are women's jeans with a relaxed cut in the hip and thigh. Similar to skinny slouchy, some boyfriend jeans end in a more tapered leg or are tapered and rolled up at the ankle. Boyfriend jeans are a casual-style jean available in many different washes, and are sometimes distressed. These styles work for many figures, but choose a slimmer cut or wear them with heels if you're petite to avoid looking boxy.
References
Writer Bio
Hilary White is a professional writer and editor based in San Diego. White has been writing articles on fashion, style, fitness, nutrition, movies and entertainment since 1994. Her articles have been published in "Westways" magazine, "Pages" magazine, "Book Street USA," "Magill's Cinema Annual," and numerous titles from Visible Ink Press. White holds a bachelor's degree in English from Michigan State University.
Photo Credits
rkankaro/iStock/Getty Images