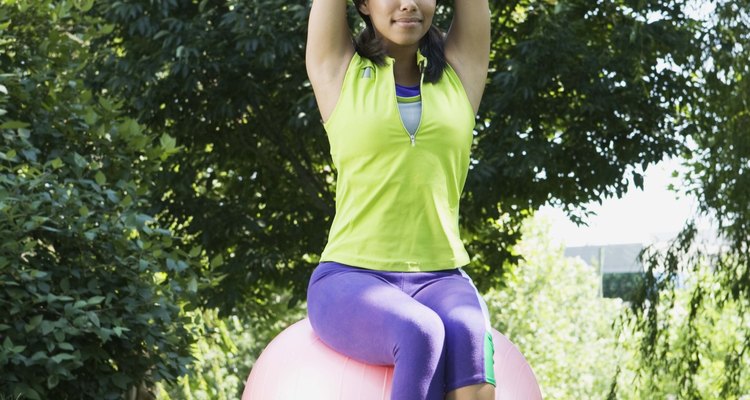 Jupiterimages/Brand X Pictures/Getty Images
With a few snips of your scissors, you can transform a pair of stockings or tights into footless leggings. You can rescue a damaged pair or customize a new set by simply removing the feet. Footless tights look nice with skirts or shorts and make warm coverings for active women and girls. Cutting away restrictive stirrups or trimming the toes away making wearing tights easier. If you like style-crafting, you can add extra touches after you cut away the feet.
Step 1
Pull on the tights and adjust the legs until they fit comfortable. Remove all the creases by tugging the tights up to the waist or down to the toes.
Step 2
Stand in front of a foot-length mirror and decide where you want to trim the tights. The tights will shrink an inch or two after you cut them so plan for shrinkage. Use a pencil to mark the ankles where you intend to cut.
Step 3
Remove the tights carefully to avoid tears or rips. Stretch out the tights on a flat, clean surface. Lay the tights on their side. Look for the pencil marks.
Step 4
Use the pencil mark as a guide and cut the tights, one at at time, with sharp sewing scissors. You should remove the heel, toe and a small piece of the ankle. It may be helpful to cut the leg on the top first, then use it as an additional cutting guide.
Step 5
Examine the cuts. If you see threads hanging loose, cut them away with the scissors.
References
Writer Bio
Mimi Bullock's writing reflects her love of traveling the back roads of small towns and sampling the local cuisine. As a regular feature writer for "Southern Hospitality Traveler" and journalist for "Beachin' Magazine," she gets to experience the rich heritage of the southern culture. She is also a licensed cosmetologist who has her own skin care line.
Photo Credits
Jupiterimages/Brand X Pictures/Getty Images