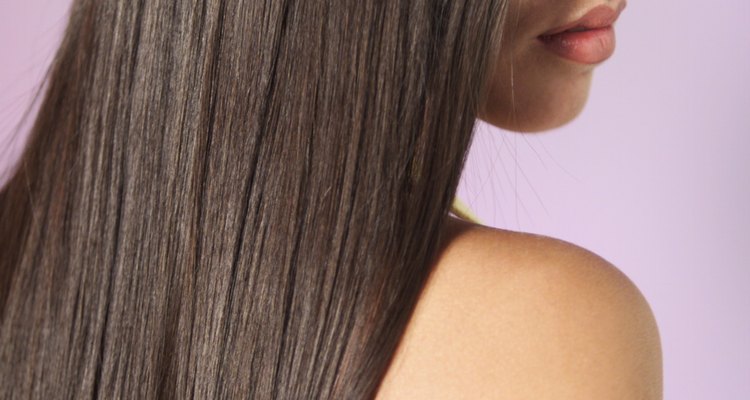 Digital Vision/Digital Vision/Getty Images
Whether your planning for a special occasion or just attending to your everyday look, straightening your hair weave can make you look polished and pulled together. However, extra care must be taken to ensure your weave looks its best. The following steps will help you to take your hair weave from curly or frizzy to smooth and sleek.
Prep
Before you start, make sure that your weave is made of real hair. Synthetic hair will melt when heat is applied to it. Gently brush your weave, removing any knots, tangles, or curls to make the cleaning process easy and effective. Shampoo and condition your weave -- this can be done with the same products you use on your own hair. After gently patting out the excessive water with a towel, finish this process by applying a dime-sized amount of straightening serum, starting at the ends of the weave and working your way towards the roots.
Straighten the Weave
Use a hair dryer with a concentrator attached to the end to blow dry your weave. The concentrator helps to smooth and flatten the hair cuticle, leaving the hair luscious and giving you less straightening work to do afterwards. Once the weave is completely dry, separate it into 1- to 2-inch sections and begin to flat iron the hair. Start by placing the root of the hair section into the flat iron and slowly moving it down the hair. Repeat the process with the section if necessary and continue the same process over the rest of the weave.
Straighten Your Hair
For a seamless look, be sure to use the same process on your own hair as well. Shampoo and condition your own hair using the same products in both the weave and your natural hair. Before inserting the weave into your hair, be sure to straighten your hair using the same method so that your natural hair and weave hair blend together and appear to be one. Be sure to use a heat protectant on your own hair before you straighten it.
Tips
Using a round brush can give your natural hair as well as the weave some bounce and volume. Finish the entire look with some hairspray for hold or hair oil for shine. Be sure to follow this procedure each time you style your weave so as not to damage it. For a permanent weave, the same steps should be followed as if the weave was your natural hair.
References
Writer Bio
Kim Dahlgren has been writing professionally for more than five years with a specialty in fashion and lifestyle. She has been published online at OpposingViews.Com, and founded her own blog Cake & Class. A California State University, Northridge graduate, she has worked as a Stylist for well-known companies such as BCBG MaxAzria and Nordstrom.
Photo Credits
Digital Vision/Digital Vision/Getty Images