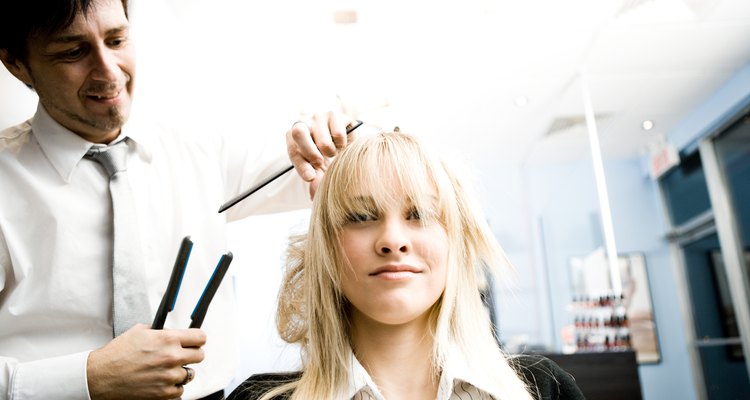 Jupiterimages/Photos.com/Getty Images
Whether you're tired of your current hairstyle or want to add some lustrous length to your short locks, a weave is a practical option. Weaves are lengths of natural or synthetic hair which are typically sewn or bonded to a snug-fitting head cap or to the wearer's natural hair. Though similar to hair extensions, weaves are not intended for regular removal and replacement, as the process can be labor intensive. A deep wave weave abounds with curls and volume, so you should take special care should to maintain it.
Allow the weave to set for at least two weeks once it is installed. During this time, abstain from immersing the hair in water or applying any styling products to it.
Brush the weave prior to your first wash to remove any accumulated oil or residue. Pull a length of the weave taut and brush from the ends to the base using a smooth, controlled motion. Continue until you have brushed the entire weave.
Clean the weave at least once a week using mild water and a nourishing shampoo for curly hair. Allow the suds to penetrate through the base of the weave to ensure that your scalp is cleaned. Rinse out the shampoo completely and follow with a cream conditioner, also listed for use with curly hair.
Apply a detangling spray to the deep wave weave while the hair is still damp to prevent knotting. Brush the hair from the ends to the base to distribute the spray throughout the weave.
Dry the hair using a blow dryer on a medium heat setting. If you will be adding additional styling products, ensure that they are non-abrasive and alcohol-free.
Preserve the weave's curls using a curling iron on a medium heat setting. If your weave is more wavy than it is curly, set the hair using a set of plastic curlers. While the curls and waves of synthetic weaves can be permanent, pieces made from natural hair require upkeep.
Wrap your weave in a silk scarf before going to bed. Cotton pillowcases and sheets may ruin the natural sheen of your weave, but an overnight silk or satin wrap will protect it. Use a wrap while exercising or working outdoors.
Don a swim cap prior to swimming in the ocean or a chlorinated pool. Salt and chlorine can damage the weave.
Visit your local salon every other week for professional touch-ups. If you wish to have the weave removed, have it done professionally for best results.
References
Writer Bio
Brandon Getty began writing professionally in 2008, with columns appearing in "Thrasher" magazine. He received a Bachelor of Arts in literature from the University of California, Santa Cruz, and lives in Stockton, Calif.
Photo Credits
Jupiterimages/Photos.com/Getty Images