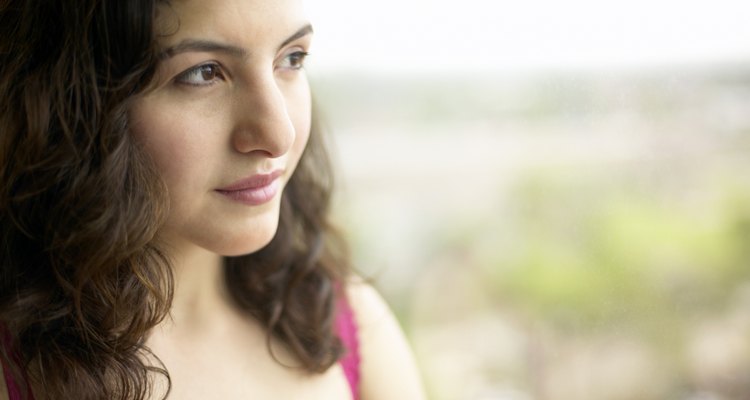 Creatas/Creatas/Getty Images
While dozens of high-tech curling, crimping and waving appliances are available on the market, you don't need heat, or even rollers, to get luscious, wavy locks. An old-fashioned wash and set using socks instead of rollers not only results in longer-lasting curls than heated curlers, but also saves you money while protecting your tresses from unnecessary heat damage.
Step 1
Wash your hair as usual and towel dry. Beginning your set with damp locks instead of wet strands shortens drying time and avoids soaking your curlers.
Step 2
Apply a hair gel, mousse or curl enhancer and comb through strands. Using these products gives curls definition and staying power.
Step 3
Begin with clean, mid-weight socks that aren't to thin or too bulky. Use socks long enough to tie the ends together.
Step 4
Part your hair as usual. Take a 2 to 3-inch section of hair in the front and wind the end around one of the socks. Continue rolling your hair under the sock to the middle of your hair. Bring the ends of the sock together and tie them in a knot to secure the curl.
Step 5
Continue rolling sections of hair around the remaining socks until all your hair is set.
Step 6
Let your hair dry overnight. Untie and carefully unwind each curl. Use your fingers to comb through the curls to keep a more defined curl or brush them out for looser, flowing waves.
Step 7
Finish with a dry shampoo if you have fine or oily hair to add body and absorb oil. Spray the dry shampoo all over with a light hold hairspray to lock in the style and have curls that last.
References
Tips
Use strips cut to size from an old T-shirt or towel instead of socks.
Writer Bio
Hilary White is a professional writer and editor based in San Diego. White has been writing articles on fashion, style, fitness, nutrition, movies and entertainment since 1994. Her articles have been published in "Westways" magazine, "Pages" magazine, "Book Street USA," "Magill's Cinema Annual," and numerous titles from Visible Ink Press. White holds a bachelor's degree in English from Michigan State University.
Photo Credits
Creatas/Creatas/Getty Images