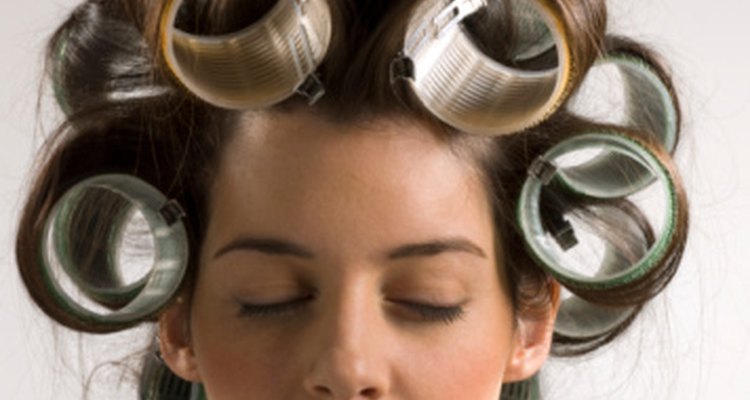 Jupiterimages/Polka Dot/Getty Images
Change your look by transforming your long, straight hair into voluptuous curls. Using velcro rollers gives you a soft, feminine look that lasts until your next wash. When choosing rollers, pick larger ones if you have longer hair and smaller ones for shorter hair. Achieve big curls in any hair texture with the right products and a little bit of time. Remember though, cut does make a difference: according to Beauty-Advices.com, curls last longer in layered hair.
Wash your hair with a moisturizing shampoo, and then condition by working the conditioner in to just the ends of the hair. Conditioning on the roots can weigh the hair down and cause your curls to go limp.
Towel dry your hair to the point that it is still damp but no longer dripping.
Comb your hair, then spray your roots with root boosting spray to create volume.
Starting at the top your hairline, by your face, take hair in two inch sections and wrap it around a Velcro roller. Repeat around your head, working your way down and around.
Dry your hair, either by letting it air dry or using a blow dryer. If you are letting your hair air dry make sure it is completely dry before taking the rollers out. If you are blow drying you hair, start with the hottest, highest setting on the dryer and blow until completely dry. Then, use cold air to set the style. Let your hair cool completely before attempting to remove the rollers.
Remove the rollers from your hair, starting from the bottom of your head and working your way up. Style with your fingers to loosen the curls and and calm any flyaways.
Spray your hair with hairspray to finish your look.
Writer Bio
Amanda Hart started her professional career as a writer in 2011. Most of her work for various websites centers on personal training, nutritional counseling and leading nutritional seminars. She is an ACSM-certified personal trainer and has a dual bachelor's degree in exercise science and community nutrition from The Ohio State University.
Photo Credits
Jupiterimages/Polka Dot/Getty Images