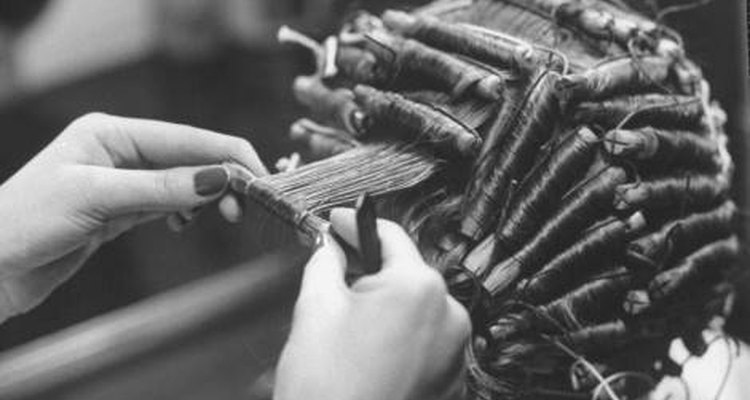 Getty Images
Are you tired of sporting the straight-hair look? Do you want luxurious curls that fall into place without falling flat? perm rods can help you get the look you desire. By using perm rods, you can get curly locks that will last for a long time. It doesn't matter if your hair is long or short, you can use perm rods to change up your hairstyle and make it just as jazzy as you are.
Shampoo and condition your hair. You can also apply a perm application to your hair if you wish. However, you can use the perm rods with or without the perm application. If you choose to use a perm application, be sure to follow the perm application instructions.
Part hair in small sections using a rat-tail comb. The parts should begin at the front in the forehead area and continue downward. Use the hair clips to pin up any loose hair that may be in the way.
Open the perm rod by unfastening the end. Roll the rod paper around the perm rod.
Apply setting lotion to a parted section of hair. Roll the hair onto the perm rod, beginning at the end of the hair. Roll the perm rod all the way up to the scalp. Fasten the rod to secure it. Repeat this step until all of the hair is in rods.
Sit underneath a blow dryer with the perm rods in your hair.
Remove the rods from your hair once the hair is completely dry. Style as desired.
Writer Bio
Faizah Imani, an educator, minister and published author, has worked with clients such as Harrison House Author, Thomas Weeks III, Candle Of Prayer Company and "Truth & Church Magazine." Her dossier includes JaZaMM WebDesigns, assistant high-school band director, district manager for the Clarion Ledger and event coordinator for the Vicksburg Convention Center.
Photo Credits