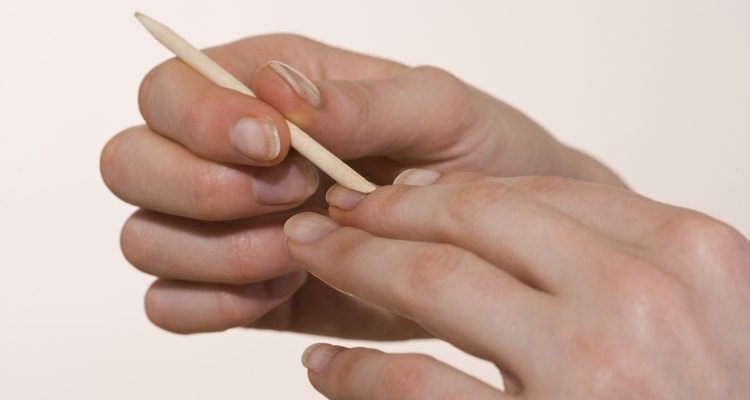 Jupiterimages/Pixland/Getty Images
Vaseline's pure petroleum jelly is a cure-all salve to soothe a host of beauty bothers. And this simple potion's uses are far from old-fashioned. One secret behind the product: It can perk up a manicure or pedicure in a flash by alleviating dry cuticles.
Causes of Dry Cuticles and Dry Nails
Cuticles and nails are made of the same protein as skin. Just like your skin can lose moisture and become dry and cracked, so, too, can your cuticles and nails. As such, you may notice extra-dry cuticles in the winter because your hands are exposed to less-humid weather and windier, colder temperatures. Additionally, more frequent hand-washing and drinking less water can also zap more moisture out of your skin.
Vaseline for Hands
Vaseline petroleum jelly is a go-to source among beauty insiders for pretty hands. Lather up your digits with the product to create a thin, non-greasy layer that acts like a shield against the elements. This can help prevent dryness and protect against moisture loss while simultaneously healing cracked skin. To further prime and protect your cuticles, smear a small amount directly onto fingernails and the nail-bed area before going to bed to refresh a dull manicure. Then maximize this treatment by putting on a pair of gloves to wake up in the morning with softer hands and shinier fingernails.
Vaseline for Feet
When it comes to dry cuticles, don't forget those on your feet. Additionally, use Vaseline to keep your heels and toes soft, even greasing your soles with the gel before putting socks on and hitting the gym. Not only will softer feet and cuticles come after that cardio session, but you'll also experience the added bonus of fewer calluses.
Other Uses for Vaseline
While Vaseline can be effective in restoring and protecting cuticles, petroleum jelly offers a few additional, total-body beauty perks. Put it on your pout and heal chapped lips overnight, or tame your mane by applying a very small amount to fly-away strands. If your trip to the salon is still weeks away, you can even cover up the need for a haircut by rubbing the product into split ends. And instead of clear mascara, make your brows behave with a sweep of Vaseline, then swipe a thin layer onto eyelids to hold eye shadow in place all day long.
References
Writer Bio
Based in Dallas, Rachel Watkins has been writing luxury lifestyle-related articles since 2007. Her work has appeared in "Modern Luxury Dallas" magazine. She holds a Bachelor of Arts in international relations from Southern Methodist University.
Photo Credits
Jupiterimages/Pixland/Getty Images