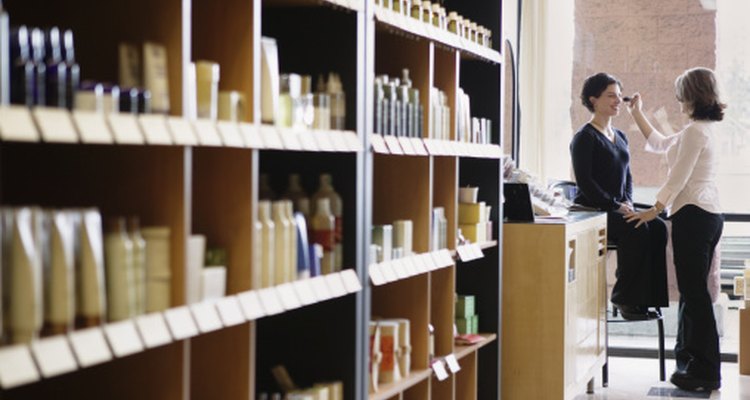 Andersen Ross/Brand X Pictures/Getty Images
Salons are places of business that offer a specific serves, treatments and products to clientele. Some salons offer specific services based around one type of treatment, such as hair salons that focus on cuts, styling and hair products, while other salons offer a wide range of beauty services and products to cater to almost all beauty needs.
Shampoos and Conditioners
Almost all salons, especially those that focus on haircuts and styling, offer salon-quality shampoos and conditioners for their clients to purchase. Many of these shampoos and conditioners are more costly than those you can purchase at convenience stores, but some clients believe that they work better and are healthier for the hair.
Hair Dyes and Lighteners
Salons that focus more on hair products and treatments include hair coloring or lightening in their repertoire. While many women, and men as well, can purchase boxes of hair dyes and hair lighteners in coloring or highlighting kits from convenience stores, salons ensure quality coloring and placement as well as repairing any mistakes made by the stylist when coloring.
Hair Removal Products
Salons generally offer hair removal treatments as well as hair removal products to purchase for at-home usage. These hair removal treatments and products include waxing, threading and depilatories. Many of the waxing and threading treatments take place within the salon, while the depilatory creams are purchase for home use.
waxing, threading kits, depilatories
Manicures and Pedicure Products and Tools
Manicures and pedicures are treatments both offered within the confines of the salon, but salons offer products to purchase for home usage, such as foot creams, toe-separators, nail files and callous files in addition to salon-brand nail polishes.
Hairstyling Products
Like the shampoos and conditioners, salons offer salon-quilt styling products, such as gel, pomade/putty, hair spray, mousse, anti-frizz cream. Also like the shampoos and conditioners, many of these styling products are more expensive than others purchased at convenience stores, but are believed to be more potent in their formulas.
Exfoliation Products
Salons that offer massages and skin treatments also perform services that exfoliate the skin and also sell products for at-home exfoliation, such as loofahs and body scrubs.
Moisturizing Products
At salons, you can also purchase lotions and moisturizing creams that are specialized for the face, body, or even hands and feet. Most salons carry brands of moisturizing creams that boast they contain more emollients that convenience-store brands and sometimes last longer.
References
Writer Bio
Tobias Starr has been writing professionally since 2010. Her specialties include fashion/beauty articles, literary analysis pieces and the occasional commentary on cultural issues. She holds a Bachelor of Arts in English with a minor in speech communication and a Master of Arts in secondary education, both from Morehead State University.
Photo Credits
Andersen Ross/Brand X Pictures/Getty Images