Glycerin is a skin moisturizing ingredient that's used in soaps, hair products and lotions. Glycerin adds moisturizer without adding fragrance, and it is a good solvent for other ingredients going into skin and hair-care products. Although lotions with glycerin are available at the store or salon, making your own lotion with glycerin at home is simple and allows you to tailor your lotion to your personal skin-care needs.
Items you will need
Bowl
1 tbsp. unflavored gelatin
Blender
Measuring cup
500 mg vitamin C
1 multivitamin
1 tsp. glycerin
1 tsp. seaweed
2 to 3 drops fragrant essential oil
2 plastic bottles with lids
1/3 cup rose water
1/3 cup glycerin
1/3 cup lemon juice
Glycerin Lotion for Oily Skin
Step 1
Dump 1 tbsp. unflavored gelatin into a bowl. Dissolve the gelatin powder in 1/4 cup boiling water, then add 1/4 cup cold water and stir. Allow the gelatin mixture to sit until it's completely cool.
Step 2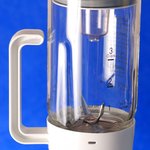 Measure 1/2 cup of the gelatin mixture, and put it in the blender. Add 500 mg vitamin C, a multivitamin tablet, 1 tsp. each of glycerin and seaweed, along with two to three drops fragrant essential oil. Blend the ingredients.
Step 3
Pour the glycerin lotion for your oily skin into a plastic bottle with a lid, and store at room temperature out of direct sunlight. Shake the bottle before using your homemade lotion.
Glycerin Lotion for Dry or Sun-Damaged Skin
Step 1
Pour 1/3 cup each glycerin, rose water and lemon juice into a plastic bottle. Put the lid on the bottle, and seal tightly.
Step 2
Shake the ingredients until mixed well. Shake the lotion before each use as well.
Step 3
Massage the glycerin lotion for dry or sun-damaged skin onto your body immediately after showing, while your skin is still damp. This lotion helps to heal, soothe and moisturize skin after sunburn or dryness from being out in the sun for long periods of time.
Tips
Store your homemade lotion in the refrigerator to soothe and refresh tired skin.

Add 1/4 tsp. alum to glycerin lotion as a skin-firmer.
Photo Credits
woman's hand rubbing lotion on leg image by Tracy Martinez from Fotolia.com