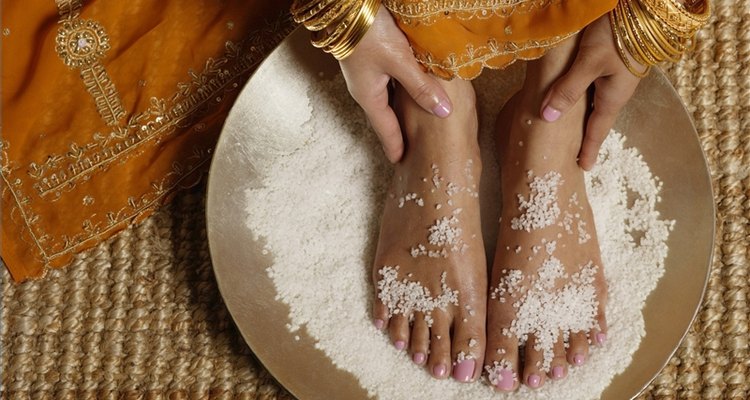 If you have aching, tired feet then you need to exfoliate them. The exfoliating scrubs found at retail stores are highly perfumed and expensive. They're also filled with many chemicals. You can make your own baking soda and sea salt scrub with all natural ingredients. You can also add fragrance oils of your choice if you desire. Follow these steps to make a baking soda and sea salt scrub.
Combine equal amounts of the first four ingredients. Make as much or as little as desired. Baking soda and seal salt scrubs store well so make enough to use over an extended period of time.
Add a teaspoon of glycerin per pound of baking soda and sea salt scrub. If you are making three pounds than you will need three teaspoons. Mix it together thoroughly by rubbing the scrub between your hands.
Incorporate color to the baking soda and sea salt scrub if you desire. You can make a festive Christmas gift by adding red or green food coloring.
Make the baking soda and sea salt scrub fragrant by adding fragrance oil. There are several different fragrances that offer different effects. Chamomile is soothing while peppermint is invigorating.
Massage your body with the scrub to fully exfoliate. You can also add 1/2 cup to your bath for a fragrant, soothing soak.
Writer Bio
This article was written by the CareerTrend team, copy edited and fact checked through a multi-point auditing system, in efforts to ensure our readers only receive the best information. To submit your questions or ideas, or to simply learn more about CareerTrend, contact us [here](http://careertrend.com/about-us).