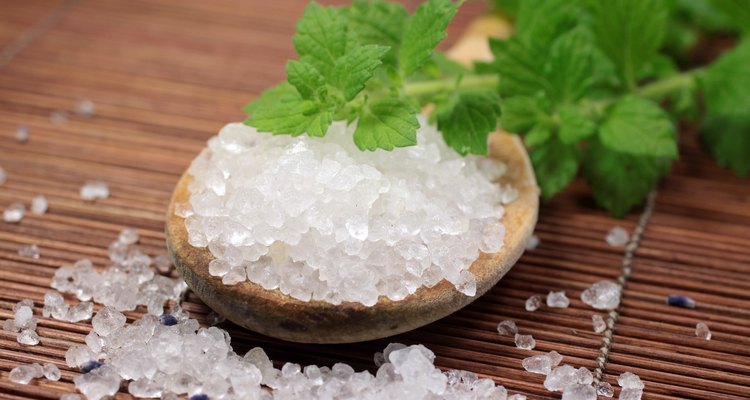 cmfotoworks/iStock/Getty Images
Make your own sea salt and peppermint body scrub, and you'll feel like you just stepped out of a spa for a fraction of the price. A weekly body scrub removes the top layer of dry, dead skin, leaving your skin refreshed and more able to effectively absorb your favorite moisturizer. A sea salt and peppermint body scrub isn't difficult to make, and the benefits are remarkable, says Rosemary Gladstar in "Rosemary Gladstar's Herbs for Natural Beauty."
Place 2 cups of sea salt in a mixing bowl. Add 2 cups of a healthy oil such as safflower, grape seed, sunflower, apricot kernel, jojoba or olive oil. Avoid mineral oil or baby oil, which won't penetrate the skin effectively. Add more oil if necessary. The mixture should be like slush, neither too dry or too wet.
Stir in 20 to 30 drops of peppermint essential oil. Stir the mixture until the essential oil is completely incorporated into the sea salt and oil mixture.
Store the sea salt and peppermint scrub in a wide-mouthed glass jar with a lid or in an airtight plastic container.
Moisten your skin and apply the body scrub, starting at your feet and working up. Apply the scrub to your entire body. If desired, apply the body scrub with a loofah or mesh scrubber. Rinse the body scrub under a warm shower. Avoid using the scrub on cuts and scrapes or broken, irritated skin.
References
Writer Bio
M.H. Dyer began her writing career as a staff writer at a community newspaper and is now a full-time commercial writer. She writes about a variety of topics, with a focus on sustainable, pesticide- and herbicide-free gardening. She is an Oregon State University Master Gardener and Master Naturalist and holds a Master of Fine Arts in creative nonfiction writing.
Photo Credits
cmfotoworks/iStock/Getty Images