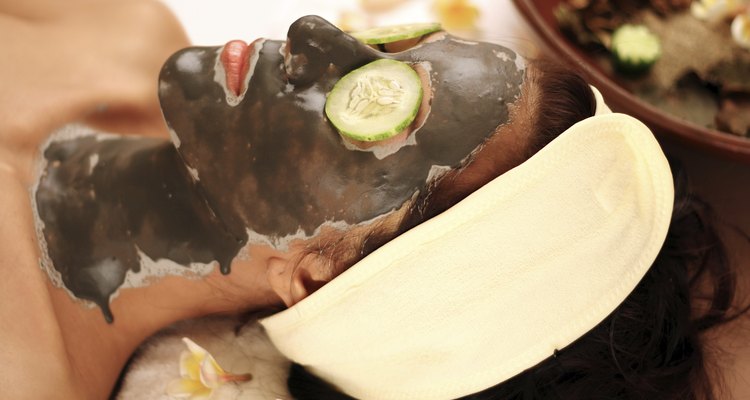 hywit dimyadi/iStock/Getty Images
Ancient sedimentary mud from the Dead Sea is rich in at least 21 minerals that are beneficial to the skin, including potassium, bromide, calcium and magnesium, according to Dr. Loretta Ciraldo of the University of Miami on "Good Morning America." A Dead Sea mud mask will invigorate and tighten your skin as it removes toxins, exfoliates and deep cleans the pores. Although Dead Sea mud masks are expensive spa treatments, the mud is available in herbal supply shops and health food stores, so you can make a mask at home.
Place 1/2 cup Dead Sea mud in a mixing bowl. Add 2 drops carrot seed essential oil, 4 drops lavender essential oil and 2 drops sandalwood essential oil. Mix carefully to be sure the essential oils are thoroughly incorporated into the clay. Store the Dead Sea mud mask in a glass bowl or jar.
Wash your face with warm water and your favorite cleanser, and then dry your skin with a soft towel. Smooth honey under your eyes down to the tops of your cheekbones. Honey will hydrate and moisturize as it protects tender skin from the mud mask.
Smooth a thin layer of the mud mixture over your face, moving your fingers from the center of your face and working outward. Massage the mud gently into your skin.
Allow the Dead Sea mud mask to remain on your skin for five to 15 minutes. The mud should feel partly dry.
Soak a washcloth in warm water. Lay the washcloth over your face to soften the mask. Once the mask is softened, rinse your face with warm water.
References
Writer Bio
M.H. Dyer began her writing career as a staff writer at a community newspaper and is now a full-time commercial writer. She writes about a variety of topics, with a focus on sustainable, pesticide- and herbicide-free gardening. She is an Oregon State University Master Gardener and Master Naturalist and holds a Master of Fine Arts in creative nonfiction writing.
Photo Credits
hywit dimyadi/iStock/Getty Images