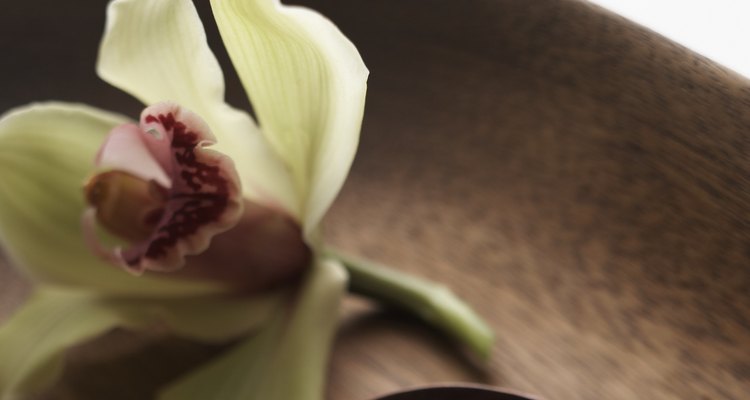 Thomas Northcut/Digital Vision/Getty Images
A warm-water soak and a scrub made of sea salt and moisturizing oils helps repair cracked, callused feet by sloughing off dead, dry skin. Cracked feet and calluses are common when the feet are tired, overworked and neglected, and it's easy to ignore the problem until summer sandal season rolls around -- or until the cracks and calluses become uncomfortable. A weekly treatment with this simple, natural scrub will leave your skin tingly, soft and refreshed.
Step 1
Place a small handful of sea salt crystals in a blender. Turn the blender on the pulse setting, and pulverize the salt to a fine powder. Although you can use the coarse salt as-is for a rough, invigorating scrub, softened salt is easier on your skin.
Step 2
Place the sea salt in a small bowl. Stir in enough olive oil or almond oil to make a paste. As a general rule, 1/2 a cup of scrub is enough for a single treatment.
Step 3
Fill a tub or basin with enough warm water to cover your ankles, and add a few drops of shower gel, liquid soap or mild shampoo to the running water. Soak your feet in the warm, sudsy water for five to 10 minutes to soften calluses and dry cracked skin, then dry your feet with a soft towel.
Step 4
Protect the floor with a large towel, or sit on the edge of the bathtub. Massage the sea salt scrub into one foot for at least two to three minutes, then scrub the other foot.
Step 5
Rinse your feet with warm water and dry them gently.
Step 6
Rub moisturizing cream, lotion or oil into your feet. Massage the moisturizer into each foot for two to three minutes.
References
Warnings
Never use sea salt on your feet if the cracks are open, painful or bleeding -- or if they are sunburned or inflamed. See a dermatologist -- open cracks can become infected.
Writer Bio
M.H. Dyer began her writing career as a staff writer at a community newspaper and is now a full-time commercial writer. She writes about a variety of topics, with a focus on sustainable, pesticide- and herbicide-free gardening. She is an Oregon State University Master Gardener and Master Naturalist and holds a Master of Fine Arts in creative nonfiction writing.
Photo Credits
Thomas Northcut/Digital Vision/Getty Images