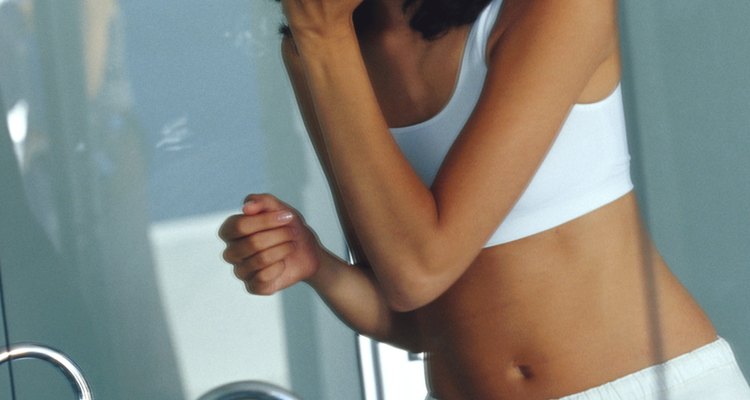 Pixland/Pixland/Getty Images
You might have thought you checked your acne at the door when you stepped out of high school, but some people face mild acne even into their adult years. You might be tempted to pop zits or even spend a fortune on over-the-counter face washes, scrubs and medications, but popping pimples is a no-no, and store-bought products can contain harsh ingredients that irritate skin. Before you stock the bathroom cabinet with acne treatment products, try using tea tree oil to relieve mild acne. It is extracted from an Australian tree and contains antibacterial properties to help zap zits right back to high school.
Step 1
Pour 1/2 cup of diluting liquid into a bowl, such as witch hazel or almond, apricot, jojoba or olive oil.
Step 2
Add 2 tablespoons of tea tree oil to the liquid. Stir well with a spoon to combine.
Step 3
Dib a cotton swab into the mixture. Dab the liquid onto the areas with acne. Do not rinse the oil from your skin.
Step 4
Continue to apply the mixture up to twice a day until the acne clears up.
References
Tips
Although you can use undiluted tea tree oil to treat adult acne, it is more likely to cause a reaction. Test a drop of it on a small part of your skin before applying it all over your face to check for any reaction. If you have eczema, tea tree oil may worsen this condition.
Warnings
Only use tea tree oil topically and avoid contact with the eyes or mouth because it is toxic when ingested. If you accidentally ingest some, seek medical attention immediately.
Stay out of the sun after applying tea tree oil to your face. The oil makes skin more sensitive to harmful UV rays.
Writer Bio
Kimbry Parker has been writing since 1998 and has published content on various websites. Parker has experience writing on a variety of topics such as health, parenting, home improvement and decorating. She is a graduate of Purdue University with a Bachelor of Arts in organizational communication.
Photo Credits
Pixland/Pixland/Getty Images