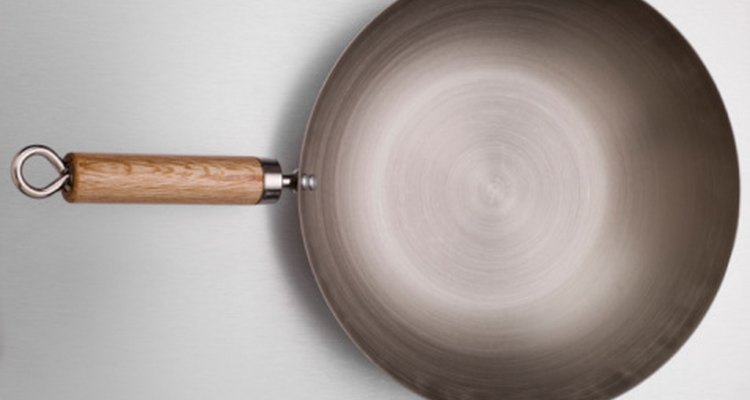 BananaStock/BananaStock/Getty Images
Squid balls are an East Asian dish consisting of breaded squid that has been deep-fried to give it a crispy texture. Squid balls are often served with a spicy-and-salty dipping sauce to complement their flavor. Instead of purchasing a premade dipping sauce, make one from home in less than 20 minutes. You will need a few fresh vegetables and some basic ingredients to make sauce for squid balls. This recipe yields just over 1 cup of squid-ball sauce.
Combine the chopped green bell pepper, chopped white onion, chopped garlic and vegetable oil in a skillet.
Place the skillet over high heat and stir the vegetables when they begin to sizzle. Continue stirring until the onions turn golden brown.
Add the soy sauce and sugar to the skillet and reduce the heat to medium-low. Stir the contents of the skillet for 30 seconds.
Pour all but 1 tbsp. of the water into the skillet. Stir the contents of the skillet until the sauce forms a smooth consistency.
Combine the remaining water and the cornstarch in a small bowl and stir until the cornstarch dissolves. Pour the water-and-cornstarch mixture into the skillet and stir the contents of the skillet until the sauce thickens.
Remove the skillet from the heat and allow the sauce to cool for 10 minutes before serving it with squid balls.
References
"The Essentials of Japanese Cooking"; Tokiko Suzuki; 1995
"Asian Sauces and Marinades"; Wendy Sweetser; 2003
Tips
Refrigerate leftover squid-ball sauce immediately and consume it within four days.
Writer Bio
Serena Styles is a Colorado-based writer who specializes in health, fitness and food. Speaking three languages and working on a fourth, Styles is pursuing a Bachelor's in Linguistics and preparing to travel the world. When Styles isn't writing, she can be found hiking, cooking or working as a certified nutritionist.
Photo Credits
BananaStock/BananaStock/Getty Images