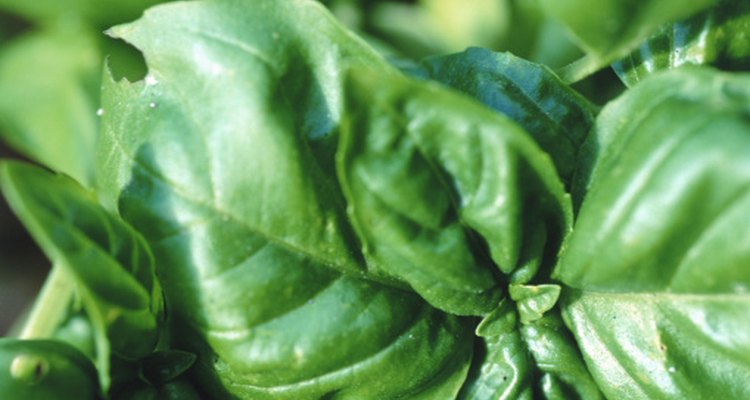 John Foxx/Stockbyte/Getty Images
Even novice cooks are often surprised by how easy it is to make homemade pasta sauce that's far more flavorful than the jarred versions. Spaghetti sauce freezes well, so make a big batch to freeze, and you'll always have tasty sauce on hand for quick, healthy meals. To reheat frozen sauce, just place it in a pot over low to medium heat, and let it warm, stirring occasionally to prevent sticking.
Heat the olive oil in a heavy pot over medium-high heat, and add the olive oil. When the oil is hot, add the onion and garlic and heat the mixture until the onions are translucent, stirring occasionally.
Add the carrots, celery, salt and pepper to the pot, and cook the mixture for about 10 minutes, or until the vegetables have softened.
Pour the tomatoes into the pot, and add red pepper flakes and bay leaves. Reduce heat to "Low" and let the sauce simmer and thicken for about one hour.
Remove the bay leaves from the sauce and throw them away. Stir the fresh basil into the sauce, and let it simmer five to 10 minutes.
Remove the pot from the heat, and let the sauce cool. Ladle 2- to 3-cup portions into freezer bags or freezer-safe containers, and seal the bags or containers tightly before freezing them.
References
Tips
Higher-quality olive oil and canned tomatoes will yield a better-tasting sauce. Nancy Verde Barr of Fine Cooking recommends San Marzano tomatoes, but buy only those that are imported from Italy and not tomatoes labeled "San Marzano type."
For spaghetti sauce that's perfectly smooth, use a stick blender to puree the sauce at the end of the cooking time. If you don't have a stick blender, puree the sauce in a standard blender in two or three batches.
Writer Bio
Kristen Fisher is a freelance writer and editor with professional experience in both print and online media. She has published articles on a wide variety of topics including health, fitness, nutrition, home and food, and her work has appeared in "Connections Magazine" and on Lifescript.com. She graduated from the University of Arizona with a degree in psychology.
Photo Credits
John Foxx/Stockbyte/Getty Images