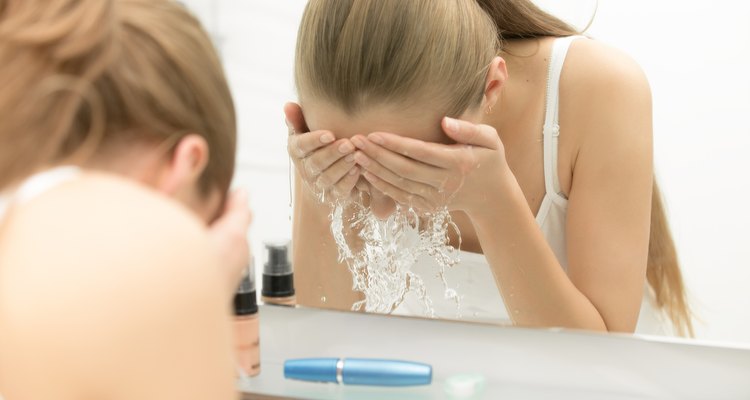 fizkes/iStock/Getty Images
Pimples and the other conditions related to acne can lead to scarring if you don't treat it right away, warns Brown University's health services. Unfortunately, even with the best skincare, you can still experience scars. You don't have to live with these scars forever. An exfoliating skin treatment can help fade surface discolorations and other blemishes, according to the University of Maryland Medical Center, and give you the clear, bright complexion you crave.
Wet your face with warm water and apply an oil-free cleanser designed for acne-prone skin. Massage it into your skin using your fingertips in a circular motion.
Rinse your skin clean with water before patting your skin dry with a soft towel.
Dab on a skin serum or a skin cream that's made with beta hydroxy acid, often listed as salicylic acid. This chemical helps exfoliate your skin and sloughs off the damaged cells that make up your acne scars. For the fastest exfoliating results, skincare expert Paula Begoun advises using a product where the acid is added in a concentration of 1 to 2 percent.
Repeat once daily--more often may excessively irritate your skin--until your acne scars have faded. It may take several weeks for your acne scars to become less noticeable.
References
"Don't Go to the Cosmetics Counter Without Me"; Paula Begoun; 2009
Warnings
Avoid using exfoliating scrubs or skincare products made with physical granules, as these can damage your skin.
Writer Bio
Joshua Duvauchelle is a certified personal trainer and health journalist, relationships expert and gardening specialist. His articles and advice have appeared in dozens of magazines, including exercise workouts in Shape, relationship guides for Alive and lifestyle tips for Lifehacker. In his spare time, he enjoys yoga and urban patio gardening.
Photo Credits
fizkes/iStock/Getty Images