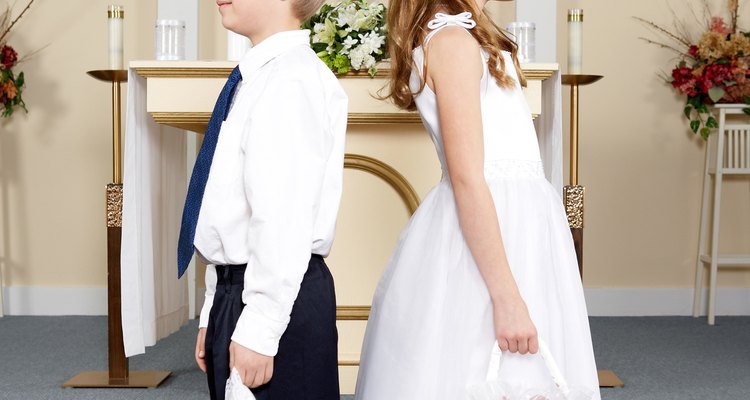 Jupiterimages/Photos.com/Getty Images
A young boy, whether he be a son of the bride and groom, a nephew or a family friend, can play a special role in a wedding ceremony. The role should be appropriate to his age. Choose from a traditional role or adapt one specific to him, his age and personality.
Ring Bearer
The most traditional role for a boy participating in a wedding ceremony is that of a ring bearer. The boy proceeds down the aisle carrying a pillow that is meant for carrying and displaying the rings. Depending on the age and level of responsibility of the boy, you can opt to place the actual wedding bands on the pillow or fake ones. The fake ones are best for a young child so you do not have to worry about him losing the real ones.
Escort or Flower Boy
A young boy can serve as an adorable escort for a girl or woman in the wedding party walking down the aisle. A popular choice is to have a boy escort the flower girl down the aisle, since they are likely close in age. A young boy could also escort the mother of the bride or the groom down the aisle and to her seat. If you do not have a girl in your family to take the role of flower girl, you could also elect for the more modern idea of having a flower boy. The boy can scatter flower petals from a basket or bowl down the aisle, or for a less feminine take on it, he can blow bubbles as he walks down the aisle.
Ceremony Details
If you are having a Catholic church ceremony, have a boy in your family serve the Mass as an altar boy. You could also opt to have the boy assist the ushers and groomsmen in distributing programs to the wedding guests and even escorting guests to their seats. Have the boy help pass out other materials to the guests for the ceremony, materials such as bubbles or paper cones full of rice or rose petals to be thrown after the ceremony.
Tending the Bride
Traditionally, a bride would often have a page boy attend her during the ceremony. Re-ignite this classic tradition in your wedding ceremony as a way for a young boy to participate. Have one boy, a couple of boys, or a boy with the flower girl, help carry the bride's train as she walks down the aisle. They could also help to fluff and straighten the bride's train as she moves throughout the ceremony.
References
Writer Bio
Michelle Barry graduated from Salve Regina University with a Bachelor of Arts in English. Since then, she has worked as a reporter for the Wilbraham-Hampden Times, an editor for Month9Books and Evolved Publishing, editor and has spent the past seven years in marketing and graphic design. She also has an extensive background in dance.
Photo Credits
Jupiterimages/Photos.com/Getty Images