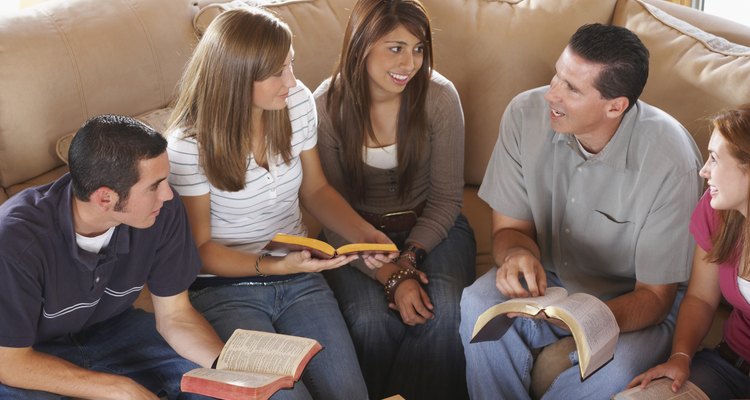 Brand X Pictures/Brand X Pictures/Getty Images
Most religious denominations have a "Pastor Appreciation Day" or the equivalent. If your pastor, priest, or other clergy member has a good sense of humor, give a gag gift to make him laugh. Be careful though, as some religiously-themed gag gifts may be seen as disrespectful and not be appreciated. Know the person you're giving it to.
Jesus Saves Bank
Those who enjoy a little play on words might like a "Jesus Saves" bank. These little banks are a recognizable image of Jesus with a slot to put coins in. On the "offense-o-meter" these are one of the safest gag gifts to give.
Bumper Stickers and T-shirts
Let your pastor or priest display his sense of humor proudly. Especially appropriate for a female clergy-member is a shirt or sticker that reads, "God Created Man First. You need a rough draft before a masterpiece." Another popular one is "Jesus is Coming, Look Busy."
Jesus Action Figure
There's just something funny about a pastor's desk lined up with Jesus Action Figures, like little G. I. Joes. Some even have Jesus giving the thumbs-up sign. While not for everyone, this type of gag gift is cute and amusing while sending the message that Jesus is your friend, an idea many clergy members can get behind.
Holy Toast
Tired of hearing about how someone else saw the Virgin Mary in a piece of toast? Holy Toast is a kitchen accessory that embosses the image of the blessed mother on your toast. Press it into the bread before putting it into the toaster, and the image appears. This is an especially funny gift for a practical joking priest who has overnight guests and makes the breakfast in the morning.
Commandments Sticky Notes
For the clergy-member who loves his or her Post-it notes, consider commandments sticky notes. These notes are gray and shaped like a tablet, coming in two different pads labeled: "Thou shalt" and "Thou shalt not." This gift is a hoot for those who can't seem to avoid writing a hundred "do this" or "don't do that" sticky notes.
Reserve a Spot in Heaven
Reserve a Spot in Heaven is a website that has been featured on Fox, CNN, MSN, Marie Claire, among others. Some have found it upsetting and anger provoking, but for those clergy members with a sense of humor, who can resist printed up travel reservations for heaven? These kits varying from the "Essential Kit" to the "All Access Travel Kit" and arrive looking something like a cruise reservation package, with a first class ticket to heaven, an ID card (so St. Peter knows you're on the list), and a Heaven 101 mini informational guide.
References
Resources
Writer Bio
April Wilson is a former wedding consultant and candlemaking business owner. She currently runs an independent micropress and is an outspoken member of the indie author movement working under her fiction-writing pen name. She's been writing professionally for five years. Her articles appear on eHow, Trails Travel, Answerbag, and Gardenguides.com.
Photo Credits
Brand X Pictures/Brand X Pictures/Getty Images