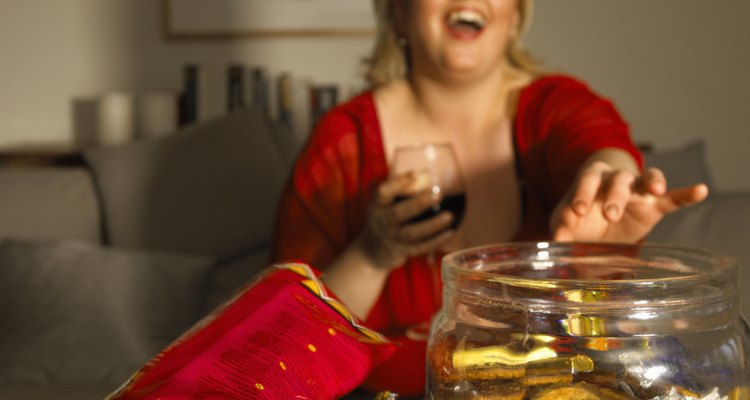 BananaStock/BananaStock/Getty Images
Hampers essentially are gift baskets you can put together for someone else during a special occasion. Hampers are especially suitable for giving gifts during various holidays and celebrations including Christmas, birthdays, graduations, Valentine's Day or marriage anniversaries. Determining what to put in your hamper -- from less expensive trinkets to more pricey novelty items -- will require a keen understanding of who the hamper is intended for. Hampers should include a variety of theme-based gifts that are presented well and make the person receiving the gifts feel special.
Gifts for Women
Several gift options are available for the type of hampers to be given, for example, on Mother's Day or Grandmother's Day. Consider putting aromatic lotions or perfumes in a hamper for a woman. Include bathing treats such as bubble bath, bath beads and a loofa for exfoliating dead skin cells as well. Jewelry such as rings, necklaces or a personalized bracelet also can be an enjoyable addition to a hamper for a woman.
Gifts for Men
Items such as a dress shirt and tie or a briefcase can be suitable gifts in a hamper for a man. Also, consider adding a belt or wallet. Other potential hamper gifts for a man include shaving cream and razor blades, a shaving kit and after-shave lotion. Pens, mugs and even a belt buckle that reads "Dad" can brighten the day of a guy who receives such gifts.
Food Gifts
Appealing edible items you can put in a hamper include chocolates, fruits and nuts. Also, wine or champagne are good hamper additions, as well as cheese balls, cookies, cakes and even chips or pretzels. Toffee, caramel popcorn, pies, sausages and lollipops also make for hampers that are pleasing to the gift receiver's palate. You can even create your own food items at home to add a personal touch to your hamper, especially if you are creating the hamper for a child who has gone off to college.
Gifts for Kids
Attractive hampers for toddlers and young children can include toy cars or even a ballerina outfit for a girl and a superhero outfit for a little boy. Personalized name badges, towels, picture frames or mugs also can light up a child's face. Girls can also enjoy hampers filled with dolls and dollhouse items. Books, crayons, teddy bears and jump ropes make for a colorful hamper as well. Musical instruments such as a toy guitar or age-appropriate board games are also options for children.
For babies, consider putting baby shampoo, a baby blanket and baby books in a hamper. Also, add important items such as bottles, pacifiers, baby booties, a baby hairbrush or even baby room decorations to the gift basket.
References
Writer Bio
YaShekia King, of Indianapolis, began writing professionally in 2003. Her work has appeared in several publications including the "South Bend Tribune" and "Clouds Across the Stars," an international book. She also is a licensed Realtor and clinical certified dental assistant. King holds a bachelor's degree in journalism from Ball State University.
Photo Credits
BananaStock/BananaStock/Getty Images