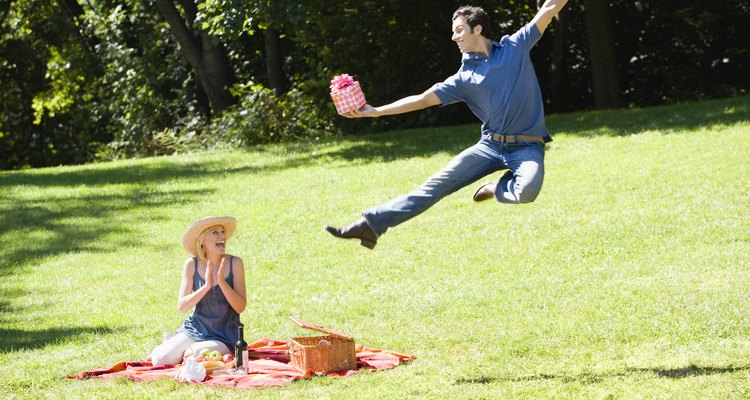 Thinkstock Images/Stockbyte/Getty Images
You can choose from many meaningful anniversary gift ideas when money is scarce. Your spouse will appreciate a gift that results from love, joy, creativity and lots of thought. Even friends and family of the couple can give a special anniversary that shows how much they care without breaking the bank. Pay attention to anniversary etiquette, such as wood for the fifth anniversary and silver for the 25th, and look for ways to personalize the gift.
Couple Exchanges
Couples can engage in an exchange of services as anniversary gifts. Give your spouse the gift of his favorite activity or host a special event where she is queen. He hosts her girls' night in and she hosts his boys' night in, with decorations, dinner and drinks. You can lose the friends and just give the special night-in for your spouse only. Exchange coupon books of requested services, such as giving a massage, cooking dinner, dumping the ugly reclining chair or taking a mother-in-law out to lunch.
Got Talent?
Use your artistic talents and computer skills to create a personalized gift for your better half. Write a personal love song for your spouse and sing it at your at-home anniversary dinner. Learn to play the most basic chords on a borrowed guitar to accompany yourself. Write a poem, funny or romantic, that tells the story of your courtship and marriage. Add decorative items to the document, print it and place it in a decorative frame. Paint a portrait of the two of you on a memorable outing, such as a day at the beach. Use high quality paper and desktop publishing software to create personalized thank you cards. *Type a lengthy list of the reasons you love your spouse, cut paper into single-reason slips and place the slips in a glass bowl your spouse can draw from every day.
Commemorative Retrospective
Commemorate your anniversary with a sweet and funny retrospective of your relationship, a gift that works for any age. Create the story on your computer using software or online applications to tell the story through written and spoken narrative, photos and representations of landmarks and milestone events. Add music, which can be especially fun for couples whose relationship spans several decades. Copy the life story to a DVD and place it in a decorative case. Make a low-tech version of the life story with a scrapbook or photo album. Add photos and memorabilia, such as play tickets and birth announcements, to tell your story as a couple. Host a special night to share the life story with family and friends.
Service with a Smile
Provide a highly valued anniversary gift to your favorite married couple. Couples should feel free to suggest these ideas when asked by family and friends for their choice of an inexpensive gift. A busy couple with or without children will appreciate a thorough, no-holds-barred house cleaning that ends with the smell of cleaning products mixing with the scent of lighted candles.
Clean and detail the couple's automobiles. Some automatic car washes have everything you need, such as shampoo and vacuum machines, to clean a car inside and out and have it smelling like springtime at the beach. *Host a formal, romantic dinner for the couple where they dress up and sit down and you cook, provide mood and music, serve each course, clean up and go home.
References
Writer Bio
Gail Sessoms, a grant writer and nonprofit consultant, writes about nonprofit, small business and personal finance issues. She volunteers as a court-appointed child advocate, has a background in social services and writes about issues important to families. Sessoms holds a Bachelor of Arts degree in liberal studies.
Photo Credits
Thinkstock Images/Stockbyte/Getty Images