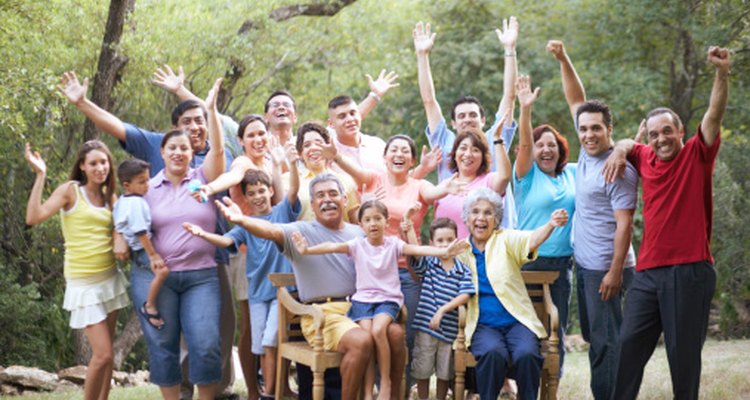 Jack Hollingsworth/Photodisc/Getty Images
A group photo can be a lovely memento of an occasion you all spent together. A group photo also is often taken to commemorate a family event or to be given as a gift. No matter what the reason for taking the photo, it should be the best photo possible. Having a theme for the portrait can enhance the overall photo. Convey your theme ideas to all members of the group so that everyone arrives prepared for the photo theme.
Beach Theme
For a beach-themed group photo, you can either use a beach photography backdrop or head to an actual beach. Have all participants in the photo wear beach clothes, such as shorts, capris and sun dresses. Refrain from having the group wear swimsuits, as not everyone may feel comfrotable being photographed in that type of attire. Add some props, such as a beach umbrella and beach balls, but don't overdo it. Have children in the front of the group making a sand castle.
Hawaiian Theme
Get the group together at a local Hawaiian restaurant or venue. Ask for permission to use the facility beforehand, especially if your group is large, and use the facility during non-peak hours. Each person in the group should wear Hawaiian clothes, and the women can wear flowers in their hair. Leis are a must to complete the photo theme. In lieu of a Hawaiian restaurant for your backdrop, head to a local park and bring some of your own props, such as tiki poles and torches, to create your own backdrop. Of course, if you are having a professional photographer do the shoot, the photographer can provide an appropriate backdrop.
Dress Alike Theme
One popular theme for a group photo is one in which everyone dresses alike. For instance, all the men wear khaki or navy slacks and a light blue shirt, and the women wear the same colors of skirt or pants and top. Having every member of the group wear jeans and the same colored T-shirt is another popular theme. For a different approach, you can have everyone wear black and white or dress formally. Pajamas is a good theme for a group photo of children.
Old-Fashioned Theme
Choose a certain era to use as the theme for your photo. Have the group dress in attire from that era. For instance, for a "Roaring 20s" theme have the women in the group dress as flappers or in dresses and hats from that era. The men could dress as gangsters. Another time-frame theme idea is the 1970s, in which all members of the group dress in '70s-themed clothes, like bell bottoms, halter tops and disco clothes.
References
Writer Bio
Mary Ellen Popolo began writing freelance articles online in 1998. She has published numerous how-to articles specializing in home and family and many other topics.
Photo Credits
Jack Hollingsworth/Photodisc/Getty Images