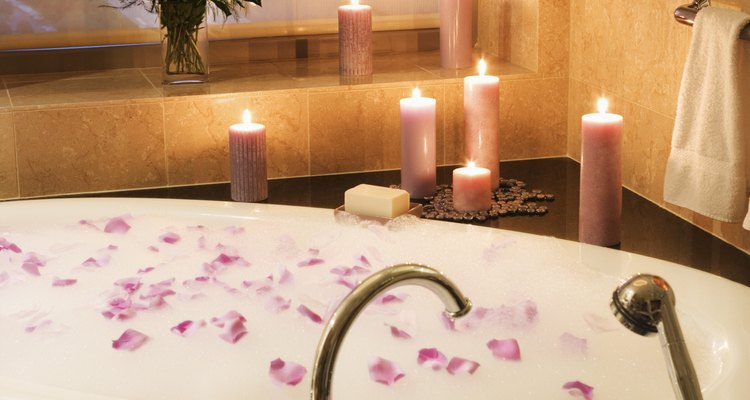 Thinkstock/Comstock/Getty Images
A romantic getaway with your partner can rekindle old flames and allow couples to bond on a more intimate level. However, due to work schedules it can be difficult to leave town for an extended period of time, and vacations can put a strain on a budget. Transforming your home into a spa retreat with no distractions is a cost-effective alternative that can spark romance from the comfort of your home. Prepare everything ahead of time before escaping to your home retreat.
Step 1
Prepare for the weekend a few weeks in advance. If you have children, arrange for a family member or friend to take the kids for the weekend. It'll be an exciting getaway for them as well. Notify friends that you won't be available that weekend. Gather any cooking ingredients, flowers, massage oil, movies, candles, flower petals, champagne, wine or sparking cider ahead of time. The goal is to stay indoors all weekend. This is ideal during winter and rainy months.
Step 2
Turn off your phones and hide computers and any other electronic distractions. Spend the first night cooking dinner together. Help each other prepare the meal and talk. Light candles and pour some wine, champagne or sparkling cider. Set the table with your best china and arrange flower petals over the table. Dim the lights and engage in personal conversation. Avoid talking about work and children, as those can dampen the mood.
Step 3
Run a hot bath with candles around the tub and flower petals over the water. Dim the lights and enjoy a bath for two.
Step 4
Make your partner breakfast in bed the next day, and stay in bed all morning. Read books, cuddle and spend time relaxing together. Later in the day, engage in an adult board game with intimate questions to get to know your partner on a deeper level.
Step 5
Order takeout from your favorite restaurant. Put on a romantic classic movie, such as "Casablanca" or "An Affair to Remember" and watch it together on the sofa. Later, take turns giving each other massages.
Step 6
Spend the next morning in bed reading the paper and remaining close. Pack a bag with a large blanket and lunch ingredients. Take a walk around the neighborhood or to your favorite park and have a picnic, weather permitting. Alternatively, you can have a picnic at home with chocolate covered strawberries for dessert.
References
"The Stay-at-Home Parent Survival Guide"; Christina Baglivi Tinglof; 2000
"101 Inexpensive Romantic Ideas for the Average Guy"; J.B. Parker; 2003
Tips
Don't over-think the weekend; the goal is to relax and put worries aside. If something doesn't go quite the way you've planned, ignore it and remember the purpose of the weekend.
Writer Bio
Jessica Davis has been a professional writer since 2005. She has worked in various media outlets, writing for a bricklaying trade publication, several research companies and her favorite: a major entertainment company in Washington where she produced scripts and online content. Davis earned a bachelor's degree in print journalism.
Photo Credits
Thinkstock/Comstock/Getty Images