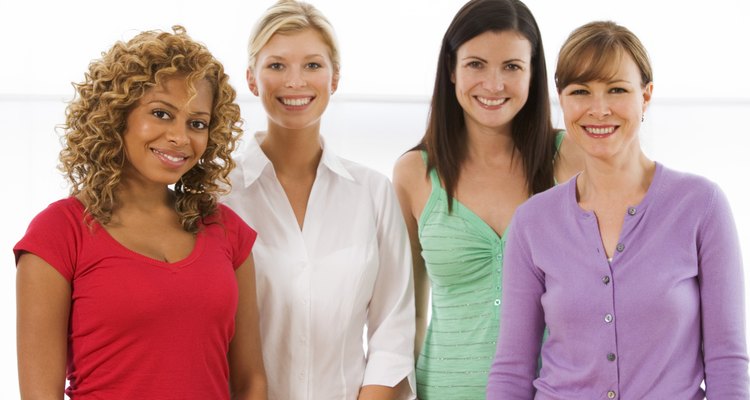 BananaStock/BananaStock/Getty Images
It's important to have a group of women to help you deal with the numerous stresses of everyday life. Making friends with other moms who live in your neighborhood provides you with a group of ladies who are just a few doors away. According to "Psychology Today," not only does having close friends increase happiness, but individuals with friends live longer and are generally healthier than those who do not. Follow a few simple steps to build and maintain solid friendships with other women in your area.
Step 1
Use common sense and choose an appropriate time to introduce yourself to other moms in your neighborhood. Avoid stopping by for the first time during meal time or late at night when people are trying to get ready for bed. You want your first encounter to provide a positive first impression, rather than cause a feeling of annoyance.
Step 2
Create a basket of goodies and present this to another mom in your neighborhood. Giving a simple gift gives you a reason to introduce yourself and reduces the feelings of awkwardness that may accompany a first meeting. Knock on the door and present her with the goodie basket. Once there, take a few moments to ask a few simple questions such as "Where are you from?" or "Do you have any pets?" Don't overstay your welcome. The point of this visit is to provide a friendly face, present her with the basket of goodies and encourage future interactions.
Step 3
Host an informal party and invite moms in the area. If weather permits, have a backyard gathering at your home, or simply utilize a space inside your home that will accommodate a larger group of people. Provide light snacks and drinks to set the tone for a relaxed and inviting setting that promotes engaging conversation. Gather the group together and ask each mother on the block to introduce herself and say a few words about her family and interests.
Step 4
Head to your neighborhood park to give your kids a chance to play outdoors. As your kids enjoy the chance to release some energy, use the time to chat with other moms watching their own children. Introduce yourself, get to know one another and talk about the stress you feel as a mother. According to a 2000 article published by UCLA, women seek out other women to deal with stress because they feel only other moms understand what they are going through. Other moms in the neighborhood give you a group of women who can relate to you and understand how you feel in a variety of situations.
Step 5
Continue to get to know neighborhood moms on a more intimate level. Stop and say hello when you see them out in the yard or when they check their mail. Invite moms over for coffee or dinner so you can talk to them in a smaller setting. Don't overstep your boundaries, as you won't become best friends overnight. Avoid asking intrusive questions, even in this intimate setting, and let them tell you personal stories when they feel comfortable doing so. The more you integrate your neighbors into your daily life, the closer you are to building long-lasting friendships.
References
Tips
Offer to help with certain tasks such as gardening. The task itself is not important; it's simply the gesture that sets the tone for new friendships with other women in your area.
Warnings
Avoid cliques or groups that exclude others as you make friends with moms in your neighborhood. You want new moms who move to the area to feel welcome and not have to break through a social barrier to meet your new group of friends.
Writer Bio
Based in Texas, Lucie Westminster has been a writer and researcher since 1975. Her work has been published in journals such as "Psychological Reports" and "Journal of Verbal Learning and Verbal Behavior." Westminster's interests include developmental psychology, children, pets and crafting. She holds a Ph.D. in psychology from Miami University.
Photo Credits
BananaStock/BananaStock/Getty Images