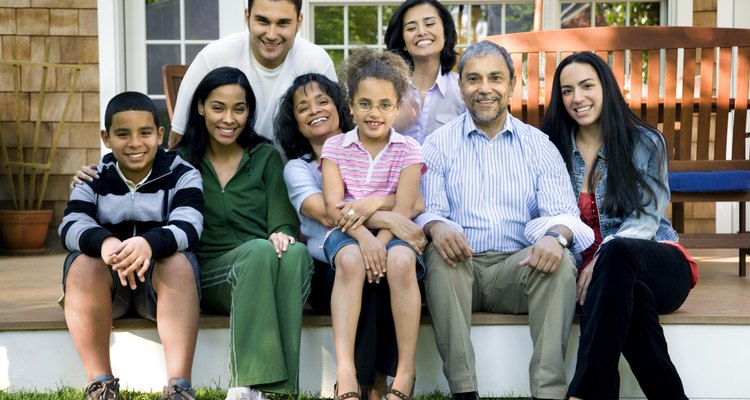 David Sacks/Lifesize/Getty Images
When it comes to combining a blended family, falling in love and getting married is often the easy part. The real challenge is forging those bonds with children from previous relationships. When those children are adults and living outside the home, the new spouses may need to be creative about how to bring the entire family together.
Step 1
Involve adult step children in your wedding, making them feel a part of the festivities. Rather than have a formal wedding party, you might want to consider instead having children from both sides of the family stand with you as vows are made. If any express an interest in helping with the planning, gratefully accept those offers and utilize the planning stages to get to know each other better.
Step 2
Keep communication open. Building an effective method of communication can create trust within a blended family, according to helpguide.org. The website suggests addressing conflict in a positive manner before issues get out of hand.
Step 3
Be sincere in your attempts to know your stepchildren. Don't try to force yourself upon them, but make efforts to have conversations about who they are. Ask questions about their current lives, careers and goals for the future.
Step 4
Make room for children to have one-on-one time with your spouse. Adult children can build a friendship with their divorced parent after a split, explains Wednesday Martin, social researcher and author of the book "Stepmonster: A New Look at Why Real Stepmothers Think, Feel and Act the Way We Do." Recognize that it can be hard for them to adjust to you, and nurture a continued special bond with their parent that doesn't have to include you.
Step 5
Suggest family activities, coming up with plans you and your stepchildren might enjoy. If your adult stepdaughter is an avid reader, find local book signings and invite her along. If your adult stepson enjoys filmography, suggest an upcoming film fest. Utilize their hobbies and interests to come together as a family.
Step 6
Don't attempt to take on the role of being a parent. Remember that your adult stepchildren are grown and likely also feel loyalty to your spouse's ex, according to Martin. They don't need a new parent, but they might benefit from having a friend.
Step 7
Share who you are with your stepchildren. Talk about your favorite hobbies and things about your past they might find interesting. For instance, if you have a passion for travel and your adult stepdaughter yearns to go to Europe, talk about your experiences abroad.
References
Writer Bio
Living in Alaska, Leah Campbell has traveled the world and written extensively on topics relating to infertility, dating, adoption and parenting. She recently released her first book, and holds a psychology degree (with an emphasis in child development and abnormal child psychology) from San Diego State University.
Photo Credits
David Sacks/Lifesize/Getty Images