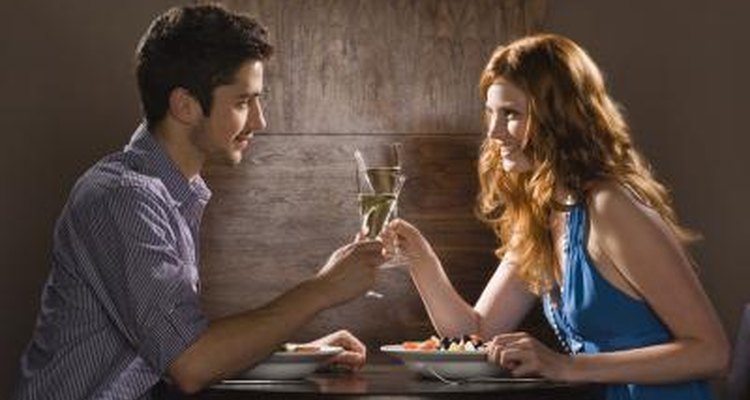 Jupiterimages/Polka Dot/Getty Images
A little injection of romance into a relationship now and again can work wonders. Often, the mundane routine of everyday life and the constant demands of work and children can take their toll on a relationship, and a couple can struggle to make time for each other. If you have decided to treat your girlfriend to a special night, you're halfway there. Making it happen simply requires a little organization and imagination.
Planning Ahead
Planning is crucial when it comes to creating a special night for your girlfriend. It's important to get the time and place just right. An evening when neither of you has work the next day is preferable, as you can both relax and enjoy it without worrying about getting up early the following morning. All distractions should be kept to a minimum: Arrange for children to be looked after and turn off all cell phones. When it comes to deciding exactly what to do for your girlfriend, keep it simple. Often the little touches are more meaningful than huge, extravagant gestures. If you're on a tight budget, you can create an evening at home that's just as special as a no-expenses-spared night out.
Going Out
If you want to whisk your girlfriend out for a special night, decide what she will enjoy the most. A meal at her favorite restaurant is a safe bet, as is taking her to see a movie, play or gig she's been hinting about. An overnight stay at a romantic hotel will give you both the chance to really relax and recharge your batteries. Wherever you choose to go, make it extra special by surprising your girlfriend. Arrange to meet her after work under the pretext of going grocery shopping or something equally mundane. Alternatively, tell her to dress for a night out (or pack an overnight bag if you're going for the hotel option) and meet you at a specific time and place. She will know something is going on, but she won't know what, and the anticipation will add to the excitement.
Staying In
Spending time at home together can be more romantic than anywhere else. It just takes a little more effort. The house should be clean and tidy, as you don't want your girlfriend to start stressing about household chores as soon as she walks through the door. Candlelight and soft background music will help to create a romantic atmosphere. Your girlfriend will appreciate a home-cooked meal, particularly if she is the one who normally does all the cooking. A glass of wine or champagne and her favorite magazine will keep her happy while you get busy in the kitchen. Go for something special that you wouldn't usually eat, such as pan-seared scallops or mustard and rosemary-crusted rack of lamb. If your girlfriend has a sweet tooth, follow with a chocolate fondue and lots of dipping delights, such as strawberries, marshmallows and pretzel rods. A romantic table setting with a pretty tablecloth, a centerpiece of roses and an ice bucket will add to the overall effect.
Finishing Touches
However you decide to wow your girlfriend on your special night, pay attention to the little details. Make an effort to dress to impress her. Wear the shirt she really likes, or pull out all the stops in black tie. Tell her how much you love her during the evening. Surprise her with a small gift or a card with a heartfelt message inside. Don't worry if you aren't good with words -- search online for romantic quotes and poems. Just make sure what it says is relevant and reflects how you feel about your girlfriend.
References
Writer Bio
C. Giles is a writer with an MA (Hons) in English literature and a post-graduate diploma in law. Her work has been published in several publications, both online and offline, including "The Herald," "The Big Issue" and "Daily Record."
Photo Credits
Jupiterimages/Polka Dot/Getty Images