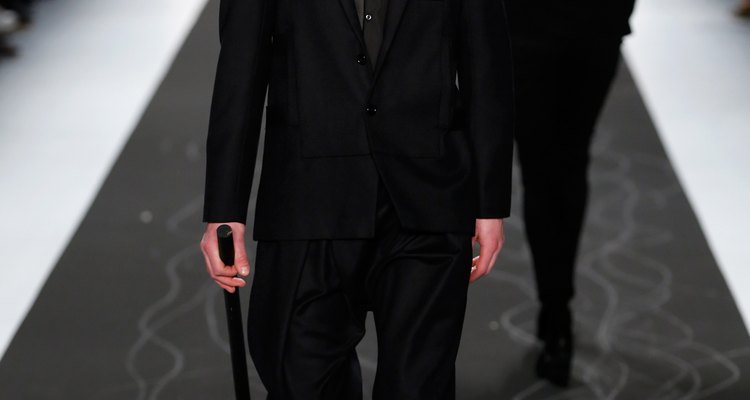 Frazer Harrison/Getty Images Entertainment/Getty Images
Whether you call them blousers, boot bands or blousing bands, these simple elastic accessories put practicality first; blousers, used most often in military uniforms, keep loose fabric out of the way during physical activity. Pants tucked into boots -- if done with just the right amount of devil-may-care slant -- can work for men and women alike, even if you aren't in the service. This look lends your ensemble a rugged, edgy vibe particularly suited for cooler seasons, where the blousers keep your trousers free of mud and slush.
Put on your boots on and wear your pant legs down over the top of the boots. Pull your pant leg up high on your calf or just below the knee, giving you enough room to work with the blousers.
Place the blousing band on your lower shin just above the top of the boot or over the boot, wherever you'd like the bottom of the bloused pant leg to fall. Secure one blouser on each leg, hooking the clasps on the end of the elastic bands to hold them in place.
Let the pants legs fall again, smoothing them out to ensure they're straight. Cuff each pant leg by making two folds with each fold roughly an inch wide.
Pinch the blouser, grasping it from the outside of the fabric of your pants. Pull it out from your leg or boot, then flip the cuffed pant leg upward and under the blouser, tucking it neatly and securely under the elastic band. Repeat on the other leg and smooth each pant leg down with your hands to finish the look.
References
Writer Bio
With a diverse professional background and a decade of experience as a freelance writer, Dan has contributed lifestyle content -- from fashion to travel to fitness and more -- to publishers including Chron, Fortune, Sony, GlobalPost, ModernMom, Moviefone, Salon.com, Techwalla and dozens of others.
Photo Credits
Frazer Harrison/Getty Images Entertainment/Getty Images