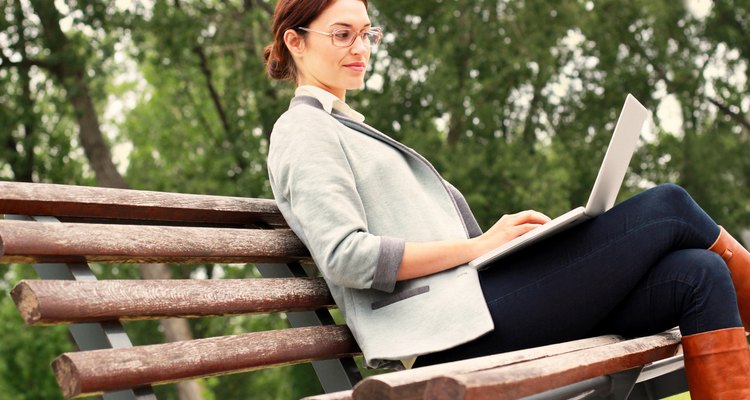 Sirius_clouds_fan/iStock/Getty Images
If your jeans don't fit right, even the cutest denim styles will completely throw off a look. Tucking baggy jeans into boots is a big fashion no-no. To avoid the bunched knees look while wearing tall boots over jeans, the answer is as simple as finding pants that fit well.
Skinny Jeans Are Your Friend
Find a pair of skinny jeans. Many women already have a pair in their closets. If you don't own a pair, skinny jeans in various sizes are found in most women's clothing stores.
Ensure that your jeans fit. Skinny jeans are known for having a slim fit throughout, which means that they should hug your knees fairly snugly and are also be fitted at the ankle. Make sure your pair fits comfortably from top to bottom.
Look for jeggings if you don't prefer skinny jeans. Jeggings are a hybrid; they look like jeans but fit like leggings. They are often made with stretchy material, which makes it easier to fit most body types.
Other Fit Tips
If you want to tuck your jeans into your boots, make sure that your jeans fit snugly around the ankle. They will surely bunch at the knees if they're already loose around the ankle.
Get creative. Try this simple trick using a pair of mitten clips, which are elastic bands with clips on both ends. Clip one end to one side of the hem of your jeans. Pull the clip under the arch of your foot, and clip the other end onto the other hem. This instantly holds your jeans down, preventing any bunching at the knee when you slip on your boots.
If you would rather not purchase skinny jeans, there is a way to get your bootcut pants to fit into your boots. Fold your jeans over so that the hem sits at your ankle. Then fold the extra fabric vertically at the calf so your jeans feel fitted. Tuck jeans over a pair of tight socks to hold your fold into place, and slip on your boots.
References
Writer Bio
Pamela Simmons has been writing professionally since 2009. Her articles on fashion, beauty and other topics have appeared on Denim Therapy and other websites. Simmons serves as an editor and public relations manager for CHIC.TV. She holds a Bachelor of Science in international affairs from Georgia Tech and a Master of Business Administration from Mercer University.
Photo Credits
Sirius_clouds_fan/iStock/Getty Images