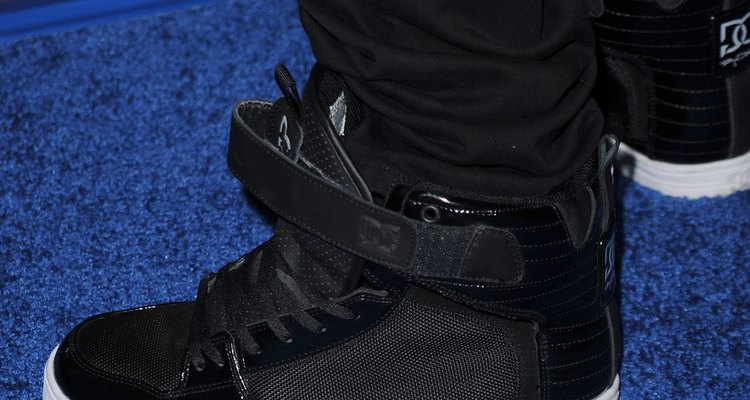 Jason Merritt/Getty Images Entertainment/Getty Images
For those into street wear, it's entirely in fashion to tuck jeans into high-tops and sneakers. This is done primarily to accentuate the style and colors of the shoes, getting the jeans out of the way. The process for tucking jeans into sneakers works well for skinny jeans and boot-cut alike, revisiting the "peg roll" style popularized in the late 1980s.
Fold over the jean cuff tightly around the ankle, fitting the jean snug against the leg. You won't need to fold over slim-fitting jeans.
Hold the cuff with your fingers while rolling up the cuff at least twice. The jeans should fit neatly inside the shoes, without leaving exposed leg. For slim-fitting jeans, just roll up the cuff without folding, until the desired amount of cuff shows.
Unlace the sneaker and move the sneaker's tongue forward enough to easily facilitate insertion of the cuff inside the upper of the shoe.
Lace the sneaker as desired, leaving the tongue up and pulling it forward slightly.
Repeat for the other cuff and sneaker.
Writer Bio
David Lipscomb is a professional writer and public relations practitioner. Lipscomb brings more than a decade of experience in the consumer electronics and advertising industries. Lipscomb holds a degree in public relations from Webster University.
Photo Credits
Jason Merritt/Getty Images Entertainment/Getty Images