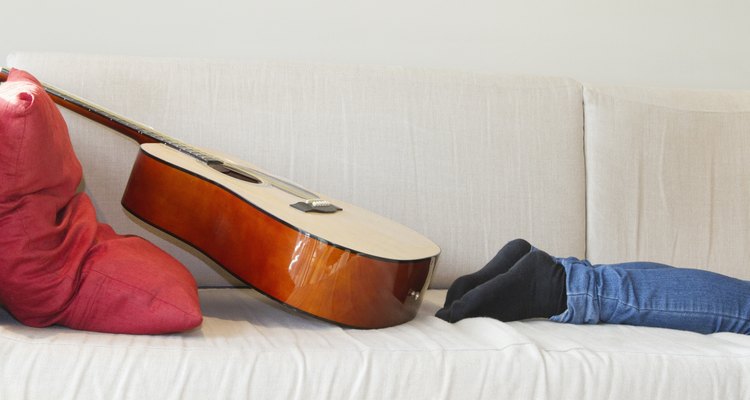 moodboard/moodboard/Getty Images
Although blue jeans originated as work clothes in the 1870s, society adapted them into a prominent feature of casual outfits. Jeans now come in many colors and styles. To make a good impression in jeans, choose the right accessories, including socks.
Objectives
Your goal in choosing the correct sock for your outfit is to create a harmonious line without jarring interruptions. The color and weight of the material should be consistent with -- but not the same as -- the material of the jeans.
Length
Men's socks come in four lengths: crew, which come half or a quarter way up the calf; calf, ankle and below-the-ankle. Ankle-length and below-the-ankle socks don't work with jeans because the flash of skin breaks up the line of the leg. Crew or calf-length socks are the best choices.
Color
Although many people wear white socks with jeans, the bright contrast of white against most colors breaks up the line and is unflattering. White socks can work with some lighter jeans. In general, though, socks should be a darker shade than the color of the fabric. Dark blue socks work well with traditional blue jeans, while black jeans require black socks. If the sock has a pattern, the color of the jeans should be part of it.
Weight
The weight of sock fabric depends on the shoes. Jeans typically go with boots or sneakers rather than dress shoes. Socks worn with jeans should therefore be heavier cotton or wool rather than the light fabric of dress socks.
References
Writer Bio
Dr James Holloway has been writing about games, geek culture and whisky since 1995. A former editor of "Archaeological Review from Cambridge," he has also written for Fortean Times, Fantasy Flight Games and The Unspeakable Oath. A graduate of Cambridge University, Holloway runs the blog Gonzo History Gaming.
Photo Credits
moodboard/moodboard/Getty Images