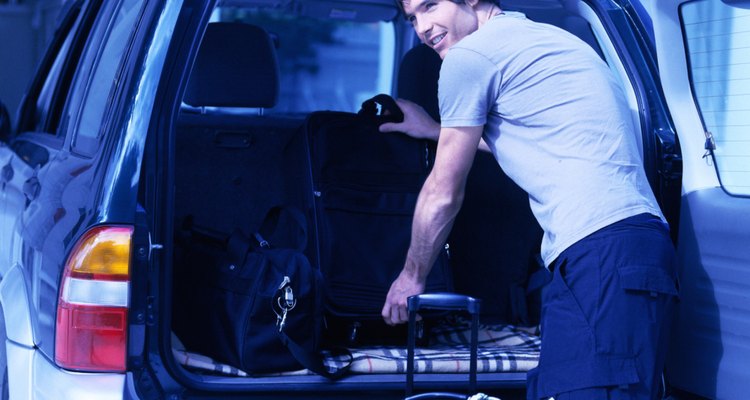 Stockbyte/Stockbyte/Getty Images
Cargo pants or trousers are loosely-cut and designed for rugged outdoor activities or travel. They are distinguished by multiple, large pockets attached to the side of the legs. Cargo pants are usually made from hard-wearing fabric and feature durable stitching and over-sized belt loops. Black cargo pants, like blacks jeans, are easily matched with a variety of shirt styles and colors.
History
Cargo pants have been military wear around the world for many generations. Tough, durable materials and stitching highlight the military-inspired look. Formerly worn mostly by military personnel, law enforcement, security workers, hunters and various field workers, they have become much more mainstream since the late 1990s. Due to their popularity, cargo pants are now manufactured in a variety of material and colors, although black cotton remains a fashion staple.
Comfort and Convenience
Cargo pants are popular mainly because of their comfort and convenience. They fit loose around the leg in order to accommodate large, square patch pockets with accordion folds for increased capacity and closed with flaps secured by buttons, snaps or hook and loop fasteners. The increased carrying capacity of cargo pants attracts students, travelers, photographers and adventurers. They look good with wide leather belts and a variety of boots or rugged footwear, echoing the military style.
Shirt Styles
Black cargo pants made of cotton or wool are often acceptable for work attire, especially with companies promoting "casual Fridays." Long-sleeved and short-sleeved collared shirts, button downs and mock turtlenecks can all be appropriately worn with cargo pants in a work environment, according to Lloyd Boston, author of "The Style Checklist: The Ultimate Wardrobe Essentials for You." For after work or on weekends, almost any kind of T-shirt, sweatshirt or Polo shirt can work, depending on colors and patterns.
Shirt Colors
Matching shirt colors with black pants is not difficult as most colors combined with black look pleasing to the eye. Diana Eng, author of "Fashion Geek: Clothes Accessories Tech," believes that dark blue, dark brown or other shades of black should not be combined with black pants because it confuses the eye and doesn't provide enough contrast. Colors recommended include white, grey, red, green, yellow and orange. White and grey shirts with black cargo pants tend to dress them up, whereas the brighter colors make the ensemble more casual or fun.
References
The Style Checklist: The Ultimate Wardrobe Essentials for You; Lloyd Boston
Fashion Geek: Clothes Accessories Tech; Diana Eng
Writer Bio
Sirah Dubois is currently a PhD student in food science after having completed her master's degree in nutrition at the University of Alberta. She has worked in private practice as a dietitian in Edmonton, Canada and her nutrition-related articles have appeared in The Edmonton Journal newspaper.
Photo Credits
Stockbyte/Stockbyte/Getty Images