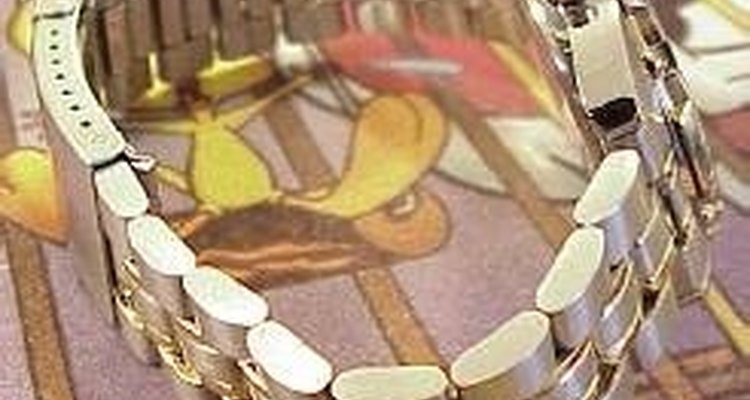 Armitron is a maker of men's and women's sports and dress watches. It is one of the most popular brands and ranks among the top ten fashion and fine watch brands. While anyone would be proud to own such a well-respected and prestigious brand of watch, adjustments may be needed to make your watch fit properly. Although many jewelers and departments stores can remove links from the watchband to better fit your wrist, you can also do it at home with just a few household items.
Determine how many links you want to remove to reach the desired length. You should only remove the links that have arrows.
Lay the watch on its side, with the arrows pointing downward.
Use the pin pusher or nail to push the pin out in the same direction the arrow is pointing.
Remove an equal number of links from each side of the watch if possible. You can remove an odd number of links by removing one link from one side and two from the other if needed.
Hold the two links together with your fingers and make sure that the pin is facing the same direction as it faced originally.
Insert the pin, going against the arrow. If the pin is not going in the correct direction, it will not fit all the way.
Press the pin completely in until it is flush against the other pins. You may need to use a flat-head screwdriver to press it in completely.
Writer Bio
Deborah has been creating and managing web content for over ten years. She has a BA in creative writing from Sarah Lawrence College and an MFA in screenwriting from The American Film Institute. Her writing has appeared in the Netbook web guides, and she has created and managed content for Yahoo, ABC.com, and dozens of websites ranging from web comics to IBM and GE.