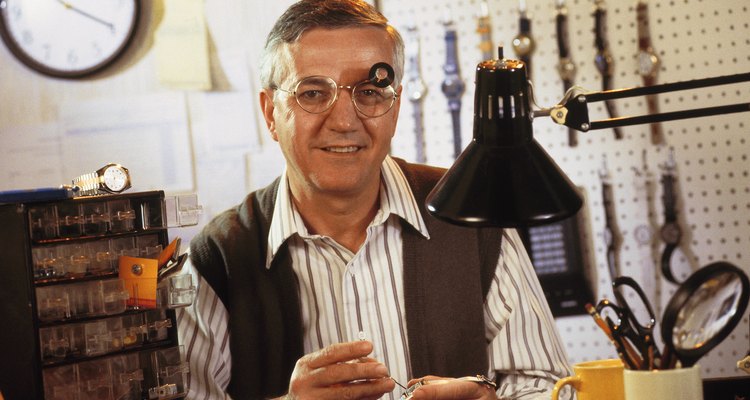 Comstock/Comstock/Getty Images
When you buy a new watch, it's important to get it sized correctly to avoid slippage and discomfort. If the watch has a linked band, links on the band can be added or removed to make the watch looser or tighter. It's possible to take the watch to a professional jeweler to get this done, or you can do it yourself if you have the correct tools. You will save money in labor costs if you alter the size of the band yourself.
Try on the watch to see if it's too loose or tight on your wrist. Optimally, the watch should be able to move about a quarter of an inch up and down. However, it shouldn't be able to spin around your wrist completely.
Squeeze both sides of the watchband together by grasping the area close to the clasp. Count the number of links that need to removed or added.
Find the holes located on the sides of the link pieces. Inside of these holes are pins. Remove or add inks closest to the clasp first and work your way up the band. As you go further toward the face of the watch, the links might not have pins. The pieces without pins can't be removed.
Place the screwdriver tip or hole punch against the pin of the link you want to remove, or where you want to add a link. Push with the watch repair tool, and the pin should slide out from the other side of the watch link.
Use the pliers to grasp the pin that's partially hanging out of the watch. Be sure to completely remove the pin from the watch link. The band should now have an opening, but all of the links will still be attached to the band.
Remove links from the band by repeating Steps 4 and 5 until the band is the desired length. To add more links, line up a link with the links on the band. Place a pin through the hole, attaching the new link to the band. Tap the link against a tabletop or workbench to secure it firmly in place.
Close the band when it's the desired length. You can close the band by placing a pin through the hole that exists where the open ends of the watchband links meet. Tap the link against a workbench to secure it firmly in place.
References
Photo Credits
Comstock/Comstock/Getty Images