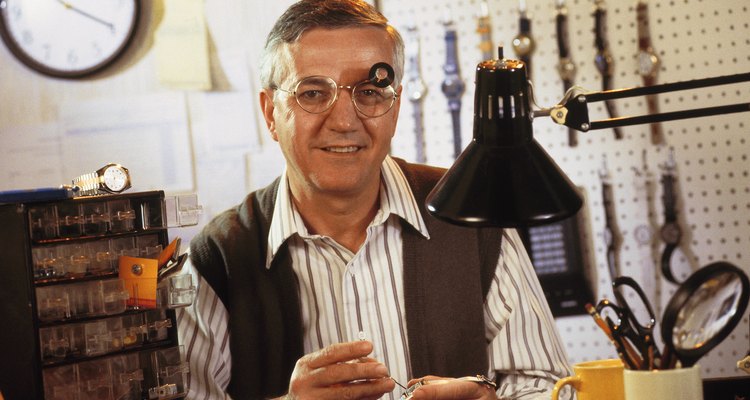 Comstock/Comstock/Getty Images
Watchbands are not covered under Nixon watch warranties. If your Nixon watchband breaks, you can send it to a Nixon service center for replacement or replace it yourself. Replacing a Nixon watchband only take a couple of minutes. Order a replacement strap from your local Nixon dealer or on the Internet. Remove the old watchband first so you can take it shopping with you to ensure that the new watchband is the same size.
Lay a soft cloth on a clean work surface. Using a clean space is important, because dust and debris can get into the watch mechanism.
Locate the lugs that protrude from the sides of the watch. The lugs hold the spring bars in place. The spring bars go through the loops on both ends of the watchband.
Turn the watch on its side and push the strap down so one end of the spring bar is revealed.
Place the hook end of the spring bar tool around the shoulders of the spring bar where it narrows to enter the lug.
Push gently down on the spring bar tool so that the spring bar retracts. Move it toward you until it is free of the lug. Gently release the spring bar. Be careful not to let it jump out, or you may lose it.
Remove the spring bar from the watchband loop, and keep it in a safe place. Repeat for the other end of the watchband.
Lay the new watchband on the cloth and make sure it is facing the right way. Insert the spring bar into the watchband loop.
Position the spring bar in the lug furthest from you. Catch the top of the spring bar with the spring bar tool.
Press down on the spring bar until it retracts, and move it into position under the top lug. Release the spring bar. Repeat for the other end of the watchband.
References
Writer Bio
Nicole Fotheringham has been a writer since 1997. She was born in South Africa and began as a reporter for the "Natal Mercury" and "Cape Argus" newspapers. Fotheringham has a master's degree in English literature from the University of KwaZulu-Natal.
Photo Credits
Comstock/Comstock/Getty Images