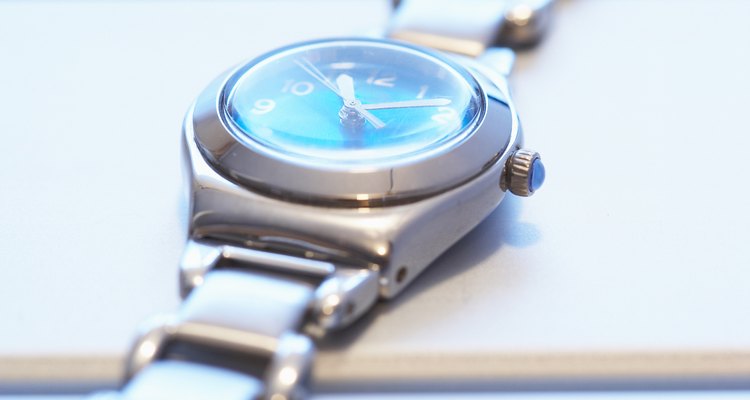 Jupiterimages/Photos.com/Getty Images
The majority of metal watch bands feature not a single piece of metal but an interlocking chain of steel, gold, silver or platinum links. Removing a link or two (or three) can take a watch from annoyingly loose to perfectly fitted. Since you will be working with small links held together by tiny pins, you will need appropriately sized tools to adjust the watch strap. For best results, select pliers, screwdrivers and pin pushers designed for watch or jewelry repair.
Step 1
Flip the watch band over and check the underside. Links that can be removed will have an arrow etched on them. The arrow's direction indicates which way to push the pin to slide it out of the link. The link you choose to remove will be attached to another link on each side by a thin metal pin or, in some cases, a screw.
Step 2
Place the watch, underside facing up, on a lint-free cloth. Using a cloth makes it easier to collect the small links and pins you remove and prevents the pins from rolling away.
Step 3
Locate the pin head on the side of the link. Gently push the pin in the direction indicate by the arrow. As the pin emerges out the other side of the link, pull it out with needle-nosed pliers. Take care not to slip and scratch the metal band with the tools. If the links are secured with screws, use a screwdriver to carefully twist them out.
Step 4
Remove the second pin from the other side of the link to remove the link from the band completely. You will now have two pins: the link you removed and the two remaining links disconnected on one end. You will need one of the pins to attach the remaining, disconnected links to each other.
Step 5
Fit the disconnected links together so the holes in their ends line up. Insert the pin through the holes with the needle-nosed pliers. Gently tap the pin into place with the craft hammer. If the watch uses screws, insert them with a screwdriver. Take care not to mis-thread the screw or force the screw into place, which will damage the threads.
Step 6
Collect the loose links and pins and store them in a safe place in case you need to reinsert them into the band. A pencil magnet is useful but not required for collecting small watch parts.
References
Tips
Remove an equal number of links from each side of the band if you want the watch face to centered on the band.
Writer Bio
Lindsey Robinson Sanchez, from Bessemer, Ala., has written for the "Troy Messenger," "The Alabama Baptist" and "The Gainesville Times," where her work was featured on the AP wire. She has a Bachelor of Science in journalism from the University of Florida. She writes style, beauty, fitness, travel and culture.
Photo Credits
Jupiterimages/Photos.com/Getty Images