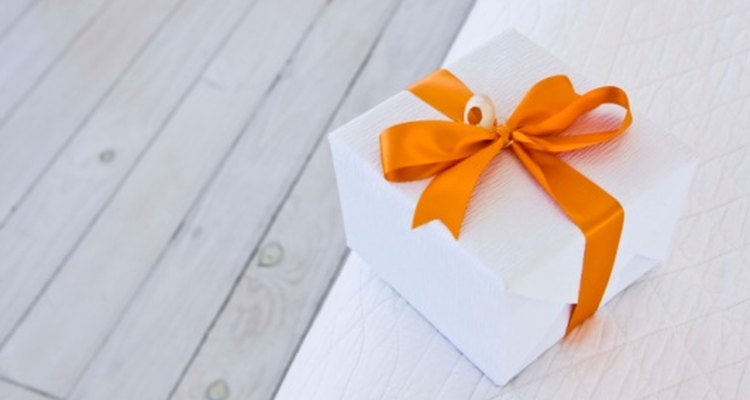 Jupiterimages/Polka Dot/Getty Images
Don't overlook your ceremony reader. It's normal for the bride and groom to give the wedding party gifts, but sometimes the ceremony reader gets overlooked. Because your reader helped you out, give him a token of your appreciation. This can commemorate the event, or just be something small that you think he would enjoy. If you don't know the reader very well, choose a standard or generic gift that would be generally accepted by most people. A small gift is a nice way to say thank you for helping you out on your big day.
Bible
Buy your ceremony reader a copy of the Bible that she read from during your ceremony. Many ceremony readers recite Bible passages, and a copy of the Bible your reader read from is a meaningful gift. The Bible will commemorate the occasion and will give the reader a memento she can keep and enjoy for years to come. Every time she looks at the Bible she will think of you and your joyous day.
Frame It
Frame the passages that your wedding reader recited at your wedding. Have the passages printed on decorative paper or canvas and have them framed at a specialty store. This gift is one that your reader can display as a reminder of the occasion. This gift is both simple and elegant, and can be enjoyed by men, women and children alike.
Gift Card
Purchase a gift card for the reader. This is easiest if you are close to the reader or know him well. If you do, buy him a gift card to his favorite restaurant or clothing store. If it's for a reader that you don't know very well, take your chances on a restaurant that has a wide variety of food. There are many establishments that have choices for most every taste. Restaurant gift cards are something that most everyone can enjoy and appreciate.
Gift Basket
Put a thank you gift basket together. Include items that remind the reader of the wedding.Include a candle similar to those that were used in your wedding, or use the same ones if you have extra. Include candies that are wrapped in wedding-themed paper. Consider adding lotions or bath beads. For men, put together a gift box with wedding candles, candies and cologne. Gift baskets or boxes are thoughtful gifts as you can include a variety of things which nearly guarantees that the recipient will at least like something in the basket or box.
Writer Bio
Crystal Lassen hails from Kansas City, Mo. and has been a book critic since 2008. Her reviews have appeared on the Publisher's Weekly website and are largely concerned with current events. She holds a Bachelor of Arts degree in English with an emphasis in creative writing from The University of Kansas.
Photo Credits
Jupiterimages/Polka Dot/Getty Images