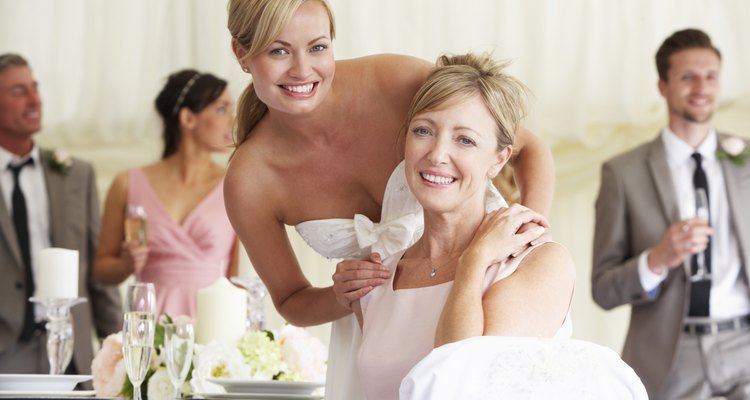 omgimages/iStock/Getty Images
The excitement of an upcoming wedding can be bittersweet when a parent of the bride or groom is deceased. However, every cloud has a silver lining and it's possible for a bride or groom to use the wedding day as a day to honor a deceased father. While he might not be there physically, you can still remember your dad on your special day.
Addition to Bridal Bouquet
A bride can honor her deceased father by placing a remembrance item of him in her bouquet or around the stem handle of her bouquet. Remembrance items can include a handkerchief or other item that belonged to your father like a rosary, or perhaps a white butterfly, which represents everlasting love, or a cross charm, a charm with his initials or name on it, or even just a ribbon in his favorite color. This is a subtle way to honor a deceased father. Guests may not even know about the addition to your bouquet, but you can find comfort in knowing that a part of your father is with you on your big day.
Reading
If you or your groom have a deceased father, you can incorporate a meaningful reading into the wedding ceremony to honor him. It can be your father's favorite poem or Bible verse, or words from a song or poem that remind you of your father. The reader can state that the reading is in memory of the father who could not be there, or simply read it. It is most meaningful to have someone who knew your father well to read the chosen material during the ceremony.
Flowers or Candles
You can also honor your deceased father by placing a bouquet of flowers or have candles lit at the altar or location where you exchange your wedding vows. If you choose to use candles to represent your father's presence, your mother or another family member who was close to your father should light the candles. Another option is for the bride and groom to light the candle or candles. You can include a mention of the remembrance flowers or candles in your wedding program or pamphlet. The wedding officiant can also make a statement about the remembrance flowers or candles, or request a moment of silence in your father's honor.
Walk Down the Aisle
If your father isn't there to walk you down the aisle on your wedding day, you may want someone else to have the honor. Depending on your relationship with other family members, you can ask your mother, brother, sister, aunt or uncle to walk you down the aisle. If you have a son or daughter, you can opt to have your child walk you down the aisle. However, you may feel that the role of your father is irreplaceable and instead choose to walk down the aisle solo as a way of honoring him, or by having your groom meet you halfway and then walking together.
Writer Bio
Sarah Mollman began writing for "The Northern Iowan" newspaper in 2005. She was awarded scholarships from the Department of English at the University of Northern Iowa for Outstanding Short Story and Outstanding Personal Essay in 2008. Mollman holds a Bachelor of Arts in English Teaching from the University of Northern Iowa.
Photo Credits
omgimages/iStock/Getty Images