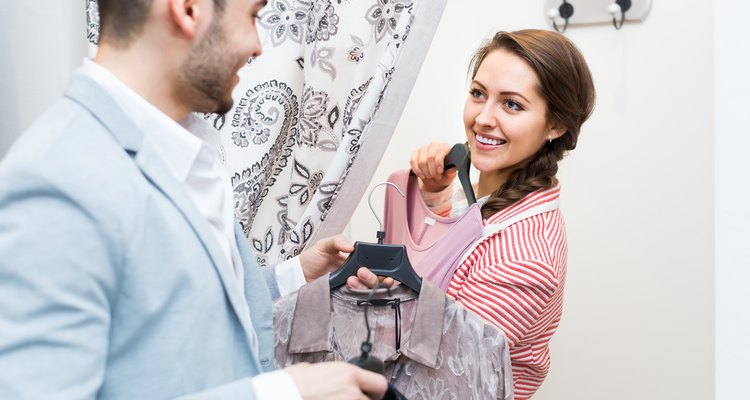 JackF/iStock/Getty Images
Everyone has hips -- yours may just be curve-less. Deciding what to wear with your kind of hips is a brain-teaser moment inside your closet. You consider your body shape and personal style, and go back and forth between accentuating or manipulating your hips. Relax. If your goal is to look polished, confident and fashionable, then remember one thing: Your body shape is an inverted triangle. Have fun with it.
Go From Curve-Less to Curves
A corset, an undergarment shaper belt or a waist belt will immediately accentuate the curves on your hips. Corsets are typically reserved for formal occasions; however, some women wear them for casual occasions because they are structured to give the clothes a more firm and tailored fit.
An undergarment shaper belt is more comfortable. Wear it with every look -- from the office to a social event.
A waist belt comes in many different materials, sizes, styles and colors. Coordinate one with a blouse, pants, skirt or dress.
The peplum dress is a classic conservative look for any social occasion. Again, you have the option to support it with an undergarment shaper belt or corset. Pair some skinny pants or a pencil skirt with a peplum blouse for a conservative chic look. The peplum flare characterizes the curves of your hips.
Bubble and tulip dresses are the necessary drama your hips need. Tulip dresses are the definition of high fashion, with a fitted top portion and bottom bulbed skirt. The structured tailoring is avant garde, made to dramatize the female shape. Bubble dresses are not as structured and come in various styles. Look for dresses that bubble around the hip area. Accessorize it with an elastic material waist belt for a more formal look.
Harem pants create the illusion of a tiny waist by the dramatic flare of the material. Harem pants are cinched at the waist and ankle, usually created with an abundance of material in the hip section of the pant leg.
Avoid clothes that minimize the hips. Women who do not have a full bust should avoid wearing skinny pants, pencil skirts or fitted cocktail dresses. These fashions exaggerate the silhouette of your curve-less hips.
References
Writer Bio
Rebecca Walton started writing after a 10-year career in state government. She is a long time contributor to Houston Style Magazine, which led to her becoming an authority on fashion and style. Walton holds a master's degree in liberal arts and owns a media and communications company that delivers content to the masses.
Photo Credits
JackF/iStock/Getty Images