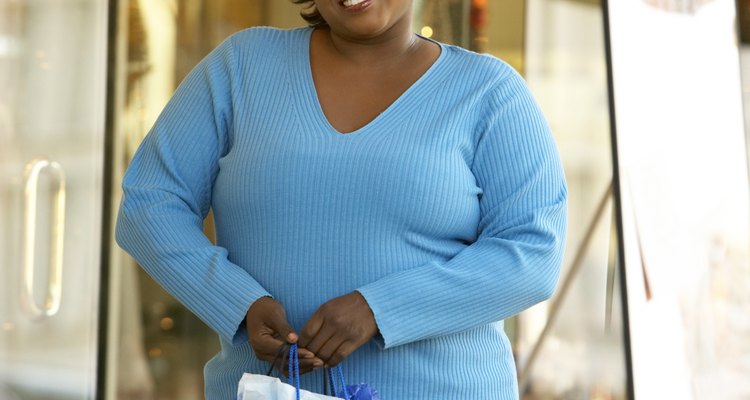 BananaStock/BananaStock/Getty Images
Many people have some part of their body that they feel self-conscious about, and that makes dressing it a bit of a challenge. If you have thick or heavy arms, it may seem impossible to find tops, jackets and dresses that flatter your body. However, if you keep an eye out for tops with specific types of sleeves, you can actually camouflage the look of heavy upper arms and create a wardrobe that makes you feel attractive and confident.
Half, Three-Quarter or Long
If you have large upper arms, you may feel self-conscious in a traditional short-sleeve shirt that leaves much of the arms exposed. Instead, opt for a half, three-quarter or long-sleeve shirt to get additional coverage for your upper arm. A half sleeve typically hits at the elbow so all of the biceps and triceps are hidden. Three-quarter-length sleeves usually reach the middle of a forearm so they provide even more coverage than half-sleeves. However, a long sleeve covers even more -- it hits at the wrist so the entire arm is concealed, which may provide the most peace of mind if you have thicker arms.
Dolman
In addition to length, the width of your sleeve can also help camouflage thicker arms. That's why the dolman sleeve is an ideal option. With this style, the bottom of the sleeve doesn't actually connect at the armpit like traditional sleeves, but is instead attached lower down on the torso so the sleeve is wider at the armhole and tapers down to the end of the sleeve. Because of the width and drape of the sleeve, the actual shape and size of the upper arm is effectively concealed. You can find dolman sleeves in various lengths, so choose an option that covers as much of your arm as you need to feel comfortable.
Kimono
Kimono-style sleeves also offer additional width to help conceal thicker arms. These sleeves are actually cut in one piece with the bodice of a dress or shirt and have a wide, sloping shape. While they offer plenty of room around the top of the arm like dolman sleeves to hide some extra jiggle, they do not taper down to the end of the sleeve. Instead, they maintain the same wide shape throughout the sleeve so they have an attractive drape that is especially flattering for large arms. Kimono sleeves traditionally end at the wrist, but modern styles come in all lengths. For just enough coverage, try an elbow-length kimono sleeve.
Raglan
Raglan sleeves are often used in sporty-style shirts and dresses because they're traditionally used for athletic jerseys. The sleeves actually extend from the arm to the neckline of the top or dress, so typically there is a diagonal seam just in front of the shoulder to help elongate the look of the arm. As a result, thicker arms tend to look slimmer. Raglan sleeves usually hit at about three-quarter-length, but you can also find half- and long-sleeve variations.
References
Writer Bio
Based in New York City, Jennifer Blair has been covering all things home and garden since 2001. Her writing has appeared on BobVila.com, World Lifestyle, and House Logic. Blair holds a Bachelor of Arts in Writing Seminars from the Johns Hopkins University in Baltimore, Maryland.
Photo Credits
BananaStock/BananaStock/Getty Images